Computer Controller Cookbook
by Tom & Kelda Riley, published 1983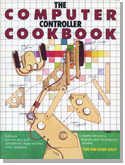 Cover
Title Page
List of Figures
Introduction
Chapter 1: Rebuilding Paddles and Joysticks
Chapter 2: Airplane Wheel
Chapter 3: Multiple Socket Extension
Chapter 4: Sketch Pad
Chapter 5: Homebuilt Atari Joysticks
Chapter 6: Race Car Steering Wheel
Chapter 7: Super Stick
Chapter 8: Foot Pedals
Chapter 9: Converters: Between Apple and Atari
Chapter 10: Sound Pushbutton
Chapter 11: Desk Switched Outlet Box
Chapter 12: AC Outlet Controller
Chapter 13: Construction Notes
Chapter 14: The Electronics Tutorial
Chapter 15: Software

You may be able to buy a pre-owned, printed copy of the book from amazon.com.
This site maintained by Kevin Savetz. Computer Controller Cookbook is copyright © 1983 by Creative Computing Press, and is posted on www.atariarchives.org with the permission of the copyright holder. Do not redistribute, mirror, or copy this online book.

The authors' other writings may be found here.