---
---
Business Writing with the Epson Printer
Communication is the name of the game in running any successful business. This comunication must be fast, accurate, and effective. Your Atari computer and Epson printer can become integral parts in your business's communication system.
This chapter deals with ways to use your computer system in improving your written information exchange. Chapter 13 investigates how you might use telecomputing as another aspect of your business network.
BOILERPLATING YOUR CORRESPONDENCE
Business often involves repetitious writing. Form letters are sent to clients. Business agreements contain standard phrases and paragraphs that must be typed over and over again. Listen to the secretaries in most any office and you will hear them muttering "There must be an easier way."
There is. It's called "boilerplate word processing." The repeated paragraph is entered only once through the keyboard and stored in a file of its own. Thereafter, when it is to be included in the text of a letter or agreement, it can be electronically loaded from the file into a working document where it can be hand edited to fit the text. This method can be used to create complete documents by loading multiple paragraphs, each from its own file.
Here is an example of a "Request for Bids" created using the boilerplate method. Due to the nature of the bidding process, every request requires varying parts to be included. This Request was constructed on the Atari computer by loading each of the paragraphs from its own file. It was then printed on an Epson printer using Near-Letter Quality print.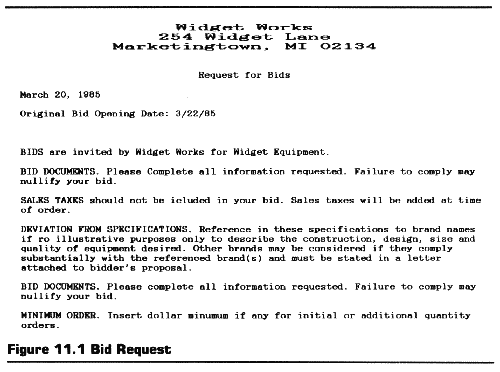 Notice the letterhead. It too was created using a word processor and then loaded into its own file. This is useful in writing letters. Begin by loading the letterhead file into your empty word processor and then start typing. When you have completed your letter, change the name of your destination file and save your letter on diskette.
BOILERPLATE LETTERS
Another style of boilerplate word processing is an electronic version of the form letter. The form letter is a style of correspondence used for decades by business for mass mailings. The letter is usually written in a non-personal manner with space at the top where the recipient's name can be typed. Invariably, however, the type style of the name doesn't match that of the letter and the recipient recognizes the letter for exactly what it is, a form letter.
Word processing has provided a way to make the form letter a bit more personal. Figure 11.2 shows an example of a boilerplate letter. Each of the words preceded by an asterisk, i.e., *APPLICANT, *POSITION, is a variable to be substituted with specific information about the recipient. This method allows the sender to enter the pertinent information into the memory of the Atari computer and then print the letter as a whole. There is no filled-in appearance.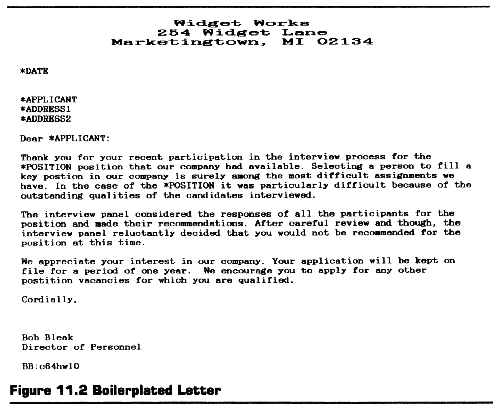 MEMO MAILERS
Some business tasks can be accomplished by sending simple memos through the mail. You can buy continuous feed memo mailers (on NCR paper) which allow you to print the memo and mailing address on the same side of the paper. The duplicate sheets provide you with file copies and folding the sheet in half creates an addressed envelope waiting for a stamp.
Memo mailers make the task of sending non-payment reminders easy. This process can be made even easier by using a boilerplate form to print the reminders. Figure 11.3 shows a sample of such a boilerplate. The top half of the form is the memo and the bottom half is the actual address for mailing.
---
Dear *SALUTATION:
This is a reminder that your account is now 120 days overdue. We would appreciate your rapid consideration in this matter. If you are unable to pay the full amount, please contact our office so we may construct a payment schedule.
Thank you,

Widget Works
254 Widget Lane
Marketington, MI 02134
*ACCOUNT
*ADDRESS 1
*ADDRESS 2
*ADDRESS 3
*ZIP
Figure 11.3 Memo Mailer Boilerplate
---
Makes life a bit easier, doesn't it? Here's an idea that will make filling in those variables a snap. Your word processor has a Search-and-Replace function. This function will search through your text for a word or phrase that you specify and then replace it with another word or phrase of your choosing.
You can use this for replacing the variables in a boilerplate letter. This is especially helpful in letters like Figure 11.2 where a variable is used multiple times. Here the variables *APPLICANT and *POSITION are used twice. It would be quicker to have your Atari computer look for each occurrence of the variable, *APPLICANT, and replace it with Sebastian L. Katt than to move the cursor to each variable and type over it.
In Atariwriter, the Search-and-Replace function works like this:
SELECT S
SEARCH FOR: *APPLICANT
REPLACE WITH: Sebastian L. Katt
REPLACE GLOBAL Y/N? Y

PaperClip does it like this:

CTRL + SHIFT - S
Global Substitute <Y/N> Yes
Include files also? <Y/N> No
Substitute? Sebastian L. Katt
for? *Applicant
More? No

MAIL MERGING
When you're sending out a great number of form letters, the fastest way to "fill in the blanks" is to perform what is called a "mail merge." This is a process where your Atari computer automatically replaces the variables in each of the letters. It merges the information from a data file which holds the name, address, and account numbers of each recipient with the form letter and prints personalized letters one at a time.
A mail merge is not necessarily the answer to every application. It must be remembered that all of the information in the data file must be input into the file before it can be merged with the letter. If this mass mailing is a one-time-only situation, it might be just as easy to enter the information directly into the letters. If there is a chance that this list of people could be used more than once, however, it would be time efficient to enter them into a data file and let the machines do the work.
Mail merges differ in how they work. Some require a database program into which the fields of information is input. These are generally more efficient because you can then access any or all of the information in the database record as desired.
Other mail merge systems, as with PaperClip, don't require another program. They allow you to enter the necessary information into a file using the word processor and use that for the data file. Each field of information is then plucked out of the data file in order. This style is a bit more limiting because it does not allow random access of the information. Only fields that will be used in the letter may be included in these data files and they must be arranged in the exact order in which they will be used. This means that unless the second letter will use the fields exactly as the first letter, the data file must be modified before using it.
PaperClip uses two files: a Mail Merge File which is a data file containing information fields, and the Form Letter.
The Fill File is created on an empty screen the same in the type of information that might be included in a Mail Merge File:
Sebastian L. Katt
123 Kitty Litter Walk
Kittytown, CT 12345
Mr. Katt
Mouse Designer
Mouse Designer
Thomas I. Lion
34 Jungle Drive
Treetown, CA 99993
Mr. Lion
Mouse Designer
Mouse Designer

Having completed these fields, save them onto diskette under the name of
MAILLIST
.
CTRL + SHIFT - W <D1:MAILLIST>

The Form Letter is also written on an empty screen. It is exactly the same as many of the previously discussed styles of letters, except CTRL - Z <M> is inserted wherever you want to insert a line from the data file.
Here is an example of a Form Letter you might create that can access the names in your MAILLIST data file:
---
CTRL - Z <M>
CTRL - Z <M>
CTRL - Z <M>
CTRL - Z <M> :
Thank you for your application for the position of CTRL - Z
M. Unfortunately. the softening market dictates that we must
alleviate some of our positions and CTRL - Z <M> has received the
proverbial as.
We will contact you immediately if this position reopens.
Sincerely.
Ida Hvre
Personnel Manager
Figure 11.4 Form Lette
r
---
This is how the first letter would look when printed out:
---
Sebastian L. Kett
123 Kitty Litter WalK
Kittytown. CT 12345
Dear Mr. Kett:
Thank you for your application for the position of Mouse
Designer, Unfortunately, the softening market dictates that we
must alleviate some of our positions and Mouse Designer has
received the proverbial ax.
We will contact you immediately if this position reopens.
Sincerely,
Ida Hvre
Personnel Manager
Figure 11.5 Form Letter Filled In
---
Atariwriter doesn't offer the capability of merging the information from a data file with a form letter to produce a mass mailing. It does, however, allow you to enter the desired information as the form letters are printed. This means you can still personalize form letters without having to retype each one individually.
Instead of typing CTRL - Z <M> where you want to insert the data, leave a blank and press OPTION INSERT. OPTION INSERT will leave an inversed character to indicate the need for data to be added while printing. When Atariwriter prints the file, it will stop when it encounters the inversed character and prompt you to MAKE ENTRY, PRESS RETURN.
Once you have your letters written, you must address the envelopes. Most offices rely on the faithful old typewriter for addressing envelopes. It's usually too much trouble to set up a word processor to print envelopes., In answer to this problem, I have included a program called the Envelope Addresser written especially for the Epson printer.
THE ENVELOPE ADDRESSER
Computers are terrific when it comes to writing business letters but they can't always complete the job.
A word processor like Paper Clip will make it fast and easy to write a closing letter to your latest client. Your Epson printer's NLQ type style will give your correspondence a professional appearance. But when it comes time to address the envelope and mail it off, it's usually time to pull out the old typewriter.
The Envelope Addresser is a program that will allow you to use your Epson printer to cure this common dilemma. It's designed to make envelope addressing easy. It will accommodate standard or legal-sized envelopes. You may use the Envelope Addresser to print an address on one envelope or on twenty. However you use it, the Envelope Addresser should make your correspondence easier.
HOW IT WORKS
The Envelope Addresser begins by asking for the size of envelope you will be addressing-standard or legal. A standard envelope is 3 5/8" x 6 ½" and a legal-sized envelope is 4 1/8" x 9 ½".
The next question to answer pertains to the number of lines in your address. The typical address is composed of three lines but this program will accommodate up to six lines of text.
Now it's time to enter the address. The prompt for the first line is "#1 ?". Start typing your first line at the cursor. If the addressee of the letter happens to have a name that exceeds 32 letters, the cursor will drop to the next line on the screen. That's OK, as long as the name fits on the envelope. When you have completed the first line, press RETURN and begin on the next line.
Once you have typed in your address, the program will ask if all of the lines are correct. This is your chance to correct any mispunched keys. A "Y" answer to this question will take you straight to the printing part of the program. If you made a mistake, however, the program will ask you for the line number and give you a second shot at doing it correctly.
The program is now asking how many copies of this envelope you want to print. This feature is included in case you have a client, friend or company you contact frequently and would like to make a cache of printed envelopes. This way you don't have to type in the address each time. All you need to do is insert new envelopes into your Epson printer.
After selecting a number of envelopes to print, the print prompt will appear. It tells you to line up the top of your envelope with the paper bail on your Epson printer. In case you forgot what the paper bail is, it's the horizontally-mounted metal rod on your printer that holds your paper (or envelope) against the platen.
Before you begin printing, you might want to use the Selectype feature to choose a specific type face for printing your envelopes. After you have done this by following the procedures outlined in Chapter 4, press RETURN and your Epson printer will come to life.
While you're in the middle of printing one of your first envelopes, your Epson printer may suddenly stop printing and start beeping. Fear not! Your electronic scribe has not taken-up singing instead of signing. It is merely indicating that it thinks it's run out of paper. There's a switch behind the platen that flips when there isn't any paper holding it down. An envelope is only about 4 inches high and while it's merrily printing away, your Epson printer is worrying about being all out of paper.
You can fool it into forgetting about such trivial problems by using a DIP switch in the back of your printer. Consult your manual for the DIP that will deactivate the paper end detector.
The Envelope Addresser will wait in between envelopes for you to position the next one. When you have finally typed all of your envelopes, it will ask if "You want to print more of these envelopes (Y/N)?". This can act as a labor-saving device if you suddenly realize that you'd like to print some additional envelopes. You don't have to type the address again. It's also quite handy if you want to print a test envelope before doing a large number. Begin by indicating that you only want to print one envelope. If it turns out to be acceptable, you can then prepare for printing another couple of dozen.
If you don't want to print more of the same, answer "N." You'll then be queried as to whether you want to print another set of envelopes. This is a means for getting back to the beginning of the program in order to print other additional envelopes. Answer "Y" and you're back to square one. Answer "N" and the program will bid you a fond farewell.
---
10 REM SAVE"D1:ADDRESSR"
20 REM * * ADDRESSES ENVELOPES * *
25 CLR
30 DIM E$(1),S$(30),S1$(30),S2$(30),S3S(30),S4S(30),S5S(30),S6$(30),ZS(1)
100 PRINT CHRS(125)
110 POSITION 8,1:PRINT "THE ENVELOPE ADDRESSER"
120 PRINT :PRINT " THIS PROGRAM WILL ADDRESS STANDARD-"
130 PRINT " OR LEGAL-SIZED ENVELOPES ON YOUR"
140 PRINT " EPSON PRINTER."
150 PRINT :PRINT "ARE YOU USING STANDARD OR LEGAL-SIZED"
160 PRINT "ENVELOPES (S,L) ";:INPUT E$
170 IF E$="S" OR E$="L" THEN GOTO 200
180 GOTO 100
200 PRINT
210 PRINT "#1: ";:INPUT S1$:IF S1$="" THEN 240
215 PRINT "#2: ";:INPUT S2$:IF S2$="" THEN 240
220 PRINT "#3: ";:INPUT S3$:IF S2$="" THEN 240
225 PRINT "#4: ";:INPUT S4$:IF S4$="" THEN 240
230 PRINT "#5: ';:INPUT S5$:IF S5$=-' THEN 240
235 PRINT "#6: ";:INPUT S6$:IF S6$="" THEN 240
240 PRINT :PRINT " ARE THESE LINES CORRECT (Y/N)";:INPUT Z$
250 IF Z$="Y" THEN GOTO 300
260 PRINT :PRINT "WHICH NUMBERED LINE NEEDS CORRECTING";:INPUT C
270 IF C<1 OR C>6 THEN 260
280 PRINT "#";C;:INPUT S$
282 IF C=1 THEN S1$=S$
283 IF C=2 THEN S2$=S$
284 IF C=3 THEN S3$=S$
285 IF C=4 THEN S4$=S$
286 IF C=5 THEN S5$=S$
287 IF C=6 THEN 56$=S$
290 GOTO 240
300 PRINT CHR$(125):PRINT :PRINT " HOW MANY COPIES OF THIS ENVELOPE"
310 PRINT " DO YOU WISH TO PRINT ";:INPUT P
320 OPEN #1,8,0,"P:"
330 FOR R=1 TO P
332 PRINT :PRINT :PRINT "LINE TOP OF ENVELOPE WITH PRINTHEAD"
333 PRINT :PRINT " PRESS RETURN TO START PRINTING";
334 INPUT Z$
339 FOR M=1 TO 7:LPRINT :NEXT M
340 IF E$="S" THEN P=20
343 IF E$="L" THEN P=40
345 FOR M=1 TO P:PRINT #1;" ";:NEXT M:PRINT #1;S1$
348 FOR M=1 TO P:PRINT #1;" ";:NEXT M:PRINT #1;S2$
350 FOR M=1 TO P:PRINT #1;" ";:NEXT M:PRINT #1;S3$
353 FOR M=1 TO P:PRINT #1;" ";:NEXT M:PRINT #1;S4$
355 FOR M=1 TO P:PRINT #1;" ";:NEXT M:PRINT #1;S5$
360 FOR M=1 TO P:PRINT #1;" ";:NEXT M:PRINT #1;S6$
370 FOR T=1 TO 6:LPRINT :NEXT T
400 NEXT R
410 CLOSE #1
420 PRINT :PRINT :PRINT " DO YOU WANT TO PRINT MORE"
430 PRINT " OF THESE ENVELOPES (Y/N)";
435 INPUT Z$
440 IF Z$="Y" THEN 300
450 PRINT :PRINT " DO YOU WANT TO PRINT ANOTHER"
460 PRINT " SET OF ENVELOPES (Y/N)";
465 INPUT Z$
470 IF Z$="Y" THEN 25
480 PRINT :PRINT :PRINT " YOU SEND ME . . .
490 END
Figure 11.6 Listing of The Envelope Addresser

---
HOW TO MODIFY THE PROGRAM
Certain parts of the program have been written to suit my tastes in addressing envelopes. If, however, your tastes don't exactly coincide with mine and you'd like to place the address differently on the envelope-here are some hints for modifying the Envelope Addresser.
The distance from the top of the envelope to the first line is programmed to be 1 1/6 inches or 7 lines. If you would like to move the address up or down on the envelope, find line 339 which states:
339 FOR M=1 TO 7:LPRINT : NEXT M
This tells the printer to advance seven lines before printing the first line. If you wish the address to begin higher on the envelope, change the seven to a smaller number. If you wish it to begin lower on the envelope, increase the seven.
You may also want to move the address horizontally. To do this, you must alter lines 340 and 343.
340 IF E$ = "S" THEN P = 20
343 IF E$ = "L" THEN P = 40
These lines dictate how far to the right the print head will move in lines 345-360 before printing the address lines. To move the address to the right, increase the value of P To move the address to the left, decrease P's value.
One final modification might be to tell your Epson printer to print the return address as well as the sending address on the envelope. Typing and retyping your return address could become a bit tedious, so let's "hard code" it into the program.
335 LPRINT; "Dr. William B. Byte"
336 LPRINT; "128 Code Avenue"
337 LPRINT; "Silicon City CA 90256"
This change may also require you to decrease the number seven in line 339 as mentioned a couple of paragraphs ago.
BUILDING GRAPHS
You may also want to include graphic representations of the figures in a report. As mentioned in Chapter 8, it is these extras that will give your business communications an extra impact. The program below can be used for graphing annual income or annual expenses.
It will first ask for a title which is printed across the top in expanded print. Next it will ask how many years you intend to graph. It will then ask you to input each year along with the quantity to be graphed for that year. Finally, it will ask how much each unit in a bar should equal. This will allow you to alter the proportions in the graph.
---
10 REM SAVE "D1:BARCHART"
20 REM * * PRINTS VARIABLE BAR CHART * *
25 CLR
30 DIM G$(2),R$(1),T$(40),YR(20),Z$(1),Q(20)
99 PRINT CHRS(125)
100 PRINT " ADJUSTABLE BAR CHART"
110 PRINT :PRINT "PLEASE ANSWER THESE QUESTIONS SO I "
120 PRINT "MAY PRINT A BARCHART ON YOUR PRINTER."
130 PRINT :PRINT "WHAT SHALL I TITLE THIS CHART ",
135 POSITION 5,8:INPUT T$
140 PRINT :PRINT "HOW MANY YEARS SHALL I DISPLAY ",
145 POSITION 5,12:INPUT Y
150 FOR R=1 TO Y
160 PRINT
170 PRINT "YEAR: ";:INPUT YR
175 YR(R)=YR
180 PRINT "QUANTITY: ";:INPUT Q
185 Q(R)=Q
190 NEXT R
200 PRINT
210 PRINT "HOW MUCH SHOULD EACH UNIT EQUAL ";:INPUT V
220 OPEN #1,8,0,"P:"
250 PRINT #1;CHR$(14);T$
255 LPRINT
260 FOR R=1 TO Y
270 PRINT #1;YR(R);" ",
275 I=INT(Q(R)/V)
280 PRINT #1;CHR$(27);"K";CHR$(I+1);CHRS(0);
285 FOR S=1 TO I
290 PRINT #1;CHRS(255);
300 NEXT S
310 PRINT #1;" ";Q(R)
320 NEXT R
330 CLOSE #1
340 PRINT :PRINT :PRINT "WOULD YOU LIKE TO PRINT ANOTHER(Y/N)";
350 INPUT Z$
360 IF Z$="Y" THEN 25
370 END
Figure 11.7 Listing of Barchart Program
---

Your Atari computer and Epson printer can make your office run smoother and more efficiently. Using some of the advice included in this chapter can reduce the amount of time you spend on paperwork and increase the time you can spend making money.
---
Return to Table of Contents
|
Previous Chapter
|
Next Chapter