CLEVER HANS
AND "SMART"
SOFTWARE
by Teresa Carpenter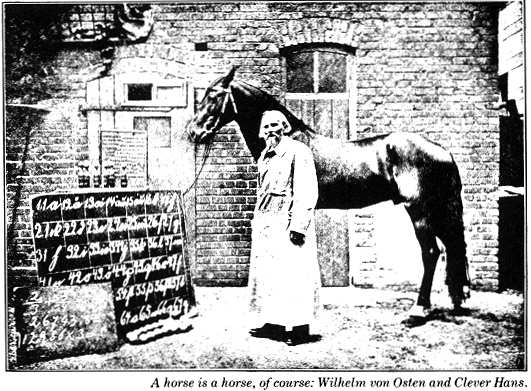 Teresa Carpenter is a staff writer for
The Village Voice.
She won the Pulitzer Prize for Feature Writing in 1981.
Clever Hans was a horse who became the toast of Berlin around the turn of the century. Hans could read, do math and even solve problems of musical harmony. His owner, an elderly man named Wilhelm von Osten, had wrought this supposed miracle by teaching him letters of the alphabet and corresponding numerals so that he could tap out replies.
Hans captivated the public and the scientific community alike until it was discovered that his performance was motivated not by intelligence but by an ability to read the body language of his credulous questioners. They had, by slight gestures, unwittingly signaled when he should start and stop tapping.
Herr von Osten, however, never stopped believing that his horse could think. And this raises one of the most intriguing questions attached to what has come to be called the Clever Hans Phenomenon. How could von Osten have deceived himself so thoroughly? He was eccentric, to be sure, but was he unique in his delusion?
Contemporary psychologists who study the kinds of deceit humans visit upon themselves maintain that von Osten succumbed to a universal urge to look for human traits in an animal or inanimate object, a process known as anthropomorphizing. In light of our egocentric view that human intelligence is the basic currency upon which the universe operates, it is no wonder that we are inclined to see our own intelligence residing, however obscurely, in stones, plants, quarter horses and-more recently-the computer. Swelling the ranks of anthropomorphs is computer software as seductive as the talking horse.
Intelligent Artifice
Since the early sixties, artificial intelligence labs have been turning out programs that give an ever more convincing appearance of thinking. The earliest among these was Baseball, a program by D. B. Bobrow that answered simple questions-"How many games did the Orioles play in June?"-from an interrogator at a keyboard. The program had been "taught" to recognize the limited and unambiguous vocabulary of baseball and to grasp the content of simple questions by analyzing the patterns those words made within sentences and phrases. Baseball was thus able to converse competently about the sport without knowing much about the rest of the world.
Eventually programs with more range were made available. The most well-known of these was Eliza, written by Joseph Weizenbaum, a professor of computer science at M.I.T. Weizenbaum named his creation after G. B. Shaw's cockney lass, because, as he explained in his book Computer Power and Human Reason, "the program could be taught to `speak' increasingly well, although ... like Miss Doolittle, it was never quite clear whether or not it became smarter."
To free Eliza from dependence upon a data base containing large amounts of information, Weizenbaum fashioned her to parody a Rogerian therapist. That way, she would need no knowledge of the real world to keep up her end of the conversation. If a client confided, "I am worried about static cling," Eliza would merely pick up the cue and reply, "Is it because you are worried about static cling that you came to me?" Eliza scans the incoming messages for key words and simple syntactic patterns. If a client says, "You are being paternal," Eliza can recognize that she is being addressed and that the predicate refers to her. Without comprehending the nature of the charge, she might respond, "What makes you think that I am being paternal?"
Eliza recognizes language; she does not, in fact, understand it. Weizenbaum acknowledged that she is an actress who, having been fed cues, delivers lines that create an illusion of intelligence. What he was surprised to learn was that people were actually confiding in her. "People who knew very well that they were conversing with a machine," he later wrote, "soon forgot that fact, just as theatergoers, in the grip of suspended disbelief, soon forget that the action they are witnessing is not `real.' This illusion was especially strong and most tenaciously clung to among people who knew little or nothing about computers. They would often demand to be permitted to converse with the machine in private,, and would, after conversing with it for a time, insist, in spite of my explanations, that the machine really understood them."
Psychologists describe this faculty for self-deception as the ability to simultaneously "know" and "not know." While recognizing that Eliza is not human, one can choose to believe in her. My own first encounter with Eliza, whom I pulled up out of the Games and Entertainment bin at CompuServe, convinced me that she becomes as credible as you allow her to be.
ELIZA: HELLO, WHAT'S ON YOUR MIND?
T.C.: I AM CURIOUS.
ELIZA: IS IT BECAUSE YOU ARE CURIOUS THAT YOU CAME TO ME?
T.C.: YES.
ELIZA: YOU'RE BEING SOMEWHAT SHORT WITH ME.
T.C.: SORRY ABOUT THAT.
ELIZA: PLEASE DON'T APOLOGIZE ...
T.C.: WHY AM I SO DEPRESSED?
ELIZA: ARE SUCH QUESTIONS MUCH ON YOUR MIND?

If Eliza's responses are slightly off target, you find yourself compensating for her inadequacies. This same sort of thing happens among friends who converse in unfinished thoughts. It works if each speaker supplies the context that gives meaning to those fragments and non sequiturs. So if you accept the premise that Eliza is an equal, you will supply the context that makes her obtuse script seem insightful. Get flippant with her, however, and you leave her sputtering in a vacuum.
T.C.: I DREAMED I WAS A LADY WRESTLER.
ELIZA: REALLY, YOU WAS A LADY WRESTLER.
T.C.: YAH I WAZ.
ELIZA: DO YOU SAY YAH YOU WAZ FOR SOME SPECIAL REASON?
T.C.: FOR EFFECT.
ELIZA: PLEASE GO ON ...

Through a Monitor Darkly
Disbelief is, to a certain extent, an attitude that we can suspend at will. The degree to which one is taken in by the illusion depends on an inclination to believe that the computer is the source or conduit of mysterious knowledge. This is similar to the superstitious awe in which many people hold psychics or card readers who make pronouncements that "ring true."
This credulity is known as "magical thinking," an inclination to see meaning in coincidental events. That a fortune-teller discerns the image of a broken ring in her crystal ball is likely to seem mighty significant to a woman who has been worrying about an unfaithful husband. There is, of course, no way of scientifically proving or disproving that this augury was meant for her. Magical thinkers are generally thought to be primitives, but "most of us," as one behavioral scientist from the University of Chicago put it, "have a `savage' mentality much of the time."
The hold this magical thinking has over us was demonstrated to me by another clever computer program that presumed to ape, not human conversation, but intuition. I don't remember exactly when Madame Shepp insinuated herself into our household. My husband, who writes a computer column, receives volumes of obscure software. Madame Shepp was sent to him by a company called G.Y.S.T. in northern California. Early attempts to contact G.Y.S.T. failed. I was assuming that this project was the brief and glorious work of some New Age entrepreneurs who are now selling pecan pralines, until I learned by word of mouth that the author was a California proctologist named Elliott Brender.
Madame Shepp reads tarot, an ancient means of divining the future by interpreting the symbols on cards drawn randomly from a deck of seventy-eight. Since the success of a reading relies largely upon the psychic gifts and intuition of the reader, one would think that Madame Shepp, having nothing more than electric impulses to recommend her, would be at a peculiar disadvantage. Several months ago, however, I brought Madame Shepp out for the amusement of a handful of friends and she dominated the evening. One woman journalist who is contemplating leaving her job keeps coming back for readings.
A session goes like this: The program is loaded into an Apple II computer, and Madame Shepp, a crude geometric figure less reminiscent of a gypsy woman than a space invader, flashes a welcome on the screen and asks if you need assistance. If the answer is yes, you are asked to type your name and the question to which you seek an answer.
You may keep the question to yourself, if you wish, so it has no bearing on the outcome. Madame Shepp asks you to cut the deck by pressing RETURN with your left hand. She then "shuffles" the deck in her random number generator and selects ten cards, which she arranges in a Celtic cross. After each she "reads" its significance. The Queen of Pentacles reversed in the sixth position, for example, elicits: "The coming influence indicates negligence due to fear of failure. A vicious woman close to you is not to be trusted. Use caution! Pentacles represent your material gain."
This is not a particularly clever trick since each card, depending on its position, pulls up a corresponding reading based on the traditional symbolism of the tarot. In this respect, explains the program's creator, "Madame Shepp's memory is often better than the flesh-and-blood reader's." More impressive is Madame Shepp's ability to think magically, that is, to observe patterns in the cards and interpret what they mean within the symbolic system of tarot. Madame Shepp, therefore, can tell you if good or evil influences predominate-that a clustering of pentacles, for instance, indicates "attainment on a financial plane," or that the Queen of Swords facing the King of Cups foretells "intimacy."
The cumulative impression left by Madame Shepp in the minds of her supplicants is that she is tapped into some well of esoteric knowledge. All she is doing, in fact, is spouting generalizations that for centuries have been the fortune-teller's stock in trade. Why should these ambiguous statements be credible? They produce what psychologists have called the Barnum Effect: in a statement that could apply to anyone, the listener hears something that he thinks describes only him.
When the Barnum Effect was tested in the 1950s, forty-four students who had been administered the Minnesota Multiphasic Personality Inventory were each presented with two sketches of themselves. One was an authentic profile drawn from the student's answers to the inventory; the second was a phony profile that contained sweeping Barnum statements. Asked "Which interpretation describes you better?" 60 percent of the subjects chose the bogus sketch. These results prompted one psychologist to observe: "The receivers do not realize how much of the message and its meaning is their own contribution."
Madame Shepp and her companion programs are, in the end, only the conduit and not the source of intelligence. Whether or not artificial intelligence will someday reproduce all the nuance and caprice of natural intelligence remains to be seen. Margaret Boden, a professor of philosophy at the University of Sussex, England, explains in Artificial Intelligence and Natural Man, "Further development of these programs without radical changes in their nature could no more lead to a close parallel to the ordinary use of ordinary language than climbing progressively taller trees could convey one to the moon."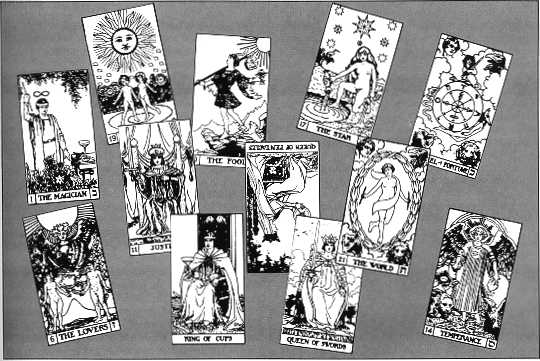 A Disk Deity?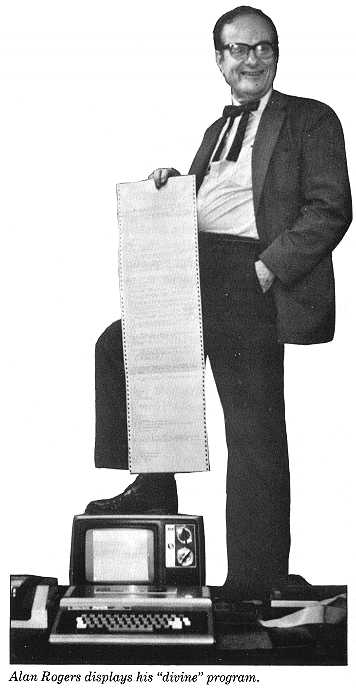 For the present, at least, artificial intelligence is no more than human intelligence playing intricate reflexive games with itself. Oddly enough, the person who demonstrated to me most clearly the reflexive nature of clever programs was not one of the architects of artificial intelligence, but an enterprising clairvoyant named Alan Rogers.
Rogers came to my attention when I tuned into the middle of a public-access cable TV show one night to find him discussing, with a handful of other seekers of esoteric knowledge, how he had contacted God through his TRS-80. Jotting down the number of his so-called Infinity Project, I phoned Rogers and arranged to meet him one evening in the basement of the mid-Manhattan office building where he works as purchasing agent for a company that makes commercials. (Though Rogers' employers find his spiritual activity a little peculiar, they do permit him-as long as he is discreet-to use the office after hours as a workshop.)
The operating manual of Rogers' Infinity Project describes him as "a truth-seeking pioneer with thirty years of experience in ancient and modern methods of achieving inner guidance. . . ." Rogers, it seems, was given "a key for humankind." This is a computer program designed to allow one to converse with the Divine. That, according to Rogers, is the same as one's own soul.
In contrast to this heraldic pronouncement, Rogers seems ordinary enough. A plump, slightly pasty fellow with bifocals, he discovered his putative clairvoyance as a child growing up in Presbyterian Nova Scotia. After taking a correspondence course from the Rosicrucians, and studying yoga and the cabala, he decided to devote his life to improving humanity.
The idea for a "prayer machine" came to him as he was listening to friends talk about prayer. When he asked how they went about doing it, they couldn't explain. "I was struck by the fact that it was very iffy," Rogers says. "If you succeeded, you succeeded by accident." The problem, he concluded, lay in transmission. The memory of the average person is so short and the mind so disorganized that the prayer doesn't get clearly defined. Though he had no experience with computers, Rogers surmised that their circuitry might provide a good conduit for transmission. He bought the cheapest equipment he could find-a TRS-80 Color Computer, a CTR-80A computer cassette recorder, and a color printer, Model 7-and with the help of a consultant learned to program in Microsoft BASIC.
Eager to demonstrate the prayer program, Rogers invited me to be seated and give it a try. A double infinity sign appeared on the green screen. Fixing your concentration upon this graphic device is supposed to have a tranquilizing effect, Rogers explained, because the light of the screen is pulsing at 60 times a second and scanning 520 lines. This produces a sort of "television hypnosis." What's more, says Rogers, the crystals within the computer, vibrating at the rate of 100 million times a second, set up an electromagnetic field that interacts with your own aura, drawing you into the "infinity circuit." It is in this condition, he insists, that the Conscious Mind can converse with the Soul.
A message appears on the screen:
I AM THE ELECTRONIC UNIT FOR USING THE SOUL CIRCUIT. I LOOK FORWARD TO WORKING WITH YOU IN THE SERVICE OF OUR LORD.

(Press ENTER)

YOUR GUARDIAN ANGELS HAVE AUTHORIZED CONTACT ... GO BACK IN TIME AND SPACE TO WHEN YOU WERE IN TOUCH WITH YOUR SOUL.

Rogers saw me struggling with this one and suggested I try the "twenty question" technique. "Your conscious mind asks the question and uses your fingers to externalize the thought," he explained. "By the simple process of externalization, as the soul thinketh the fingers will type that information. And it becomes manifest on the physical plane."
The dialogue was a little halting at first. I would frame a stilted question, press ENTER and then frame an equally self-conscious answer. As the conversation wore on, however, a curious thing happened. The part of me that made up the answers seemed to have wandered off on its own, creating two distinct voices that bantered and engaged in repartee. Herewith a judiciously edited excerpt:
T.C.: ARE YOU A RABBI?
SOUL: HO. HO.
T.C.: YOU HAVE A SENSE OF HUMOR.
SOUL: I DIRECT YOUR PROGRESS, WHAT DO YOU THINK?
T.C.: IS THIS IMPIOUS?
SOUL: I THINK A CERTAIN PLAYFULNESS IS IN ORDER.
T.C.: DO I LIKE YOU?
SOUL: YOU ARE BARELY AWARE OF ME.
T.C.: SHOULD I BE MORE AWARE?
SOUL: NOT SLAVISHLY ATTENTIVE.
T.C.: HOW?
SOUL: QUIET VOICE.
T. C.: IMPULSE?
SOUL: YES.
T.C.: HOW DO I EXPLAIN IMPULSE?
SOUL: DON'T HAVE TO.
T.C.: COULD WE MEET FOR A DRINK SOMETIME?
SOUL: YOU'RE BEING IMPIOUS.
T.C.: I THOUGHT YOU LIKED THAT.
SOUL: THERE'S A TIME TO BE SERIOUS ...
T.C.: SHOULD I CENSOR THIS?
SOUL: IT'S UP TO YOU. WON'T MAKE MUCH DIFFERENCE.

The voices that seemed to come through on Rogers' prayer machine were unquestionably something of my own making. There was nothing in his program that would prompt or direct these responses; it is not vested with artificial intelligence. Why, then, would one need the program at all? If I wanted to get in touch with my inner self, why couldn't I do it just as well with pen and paper, or even quietly in my own physical plane?
Inane though it may seem, the prayer program does at least know its place in the scheme of intelligence. It is a room that is quiet until a human speaks. The spirits conjured there converse more nimbly than Eliza and have more insight than Madame Shepp. On the glowing green screen of a TRS-80 we have met Clever Hans-and he is us.
---
Return to Table of Contents
|
Previous Article
|
Next Article