The Best of Creative Computing Volume 1 (published 1976)
Acknowledgements
Covers (Creative Computing cover art information)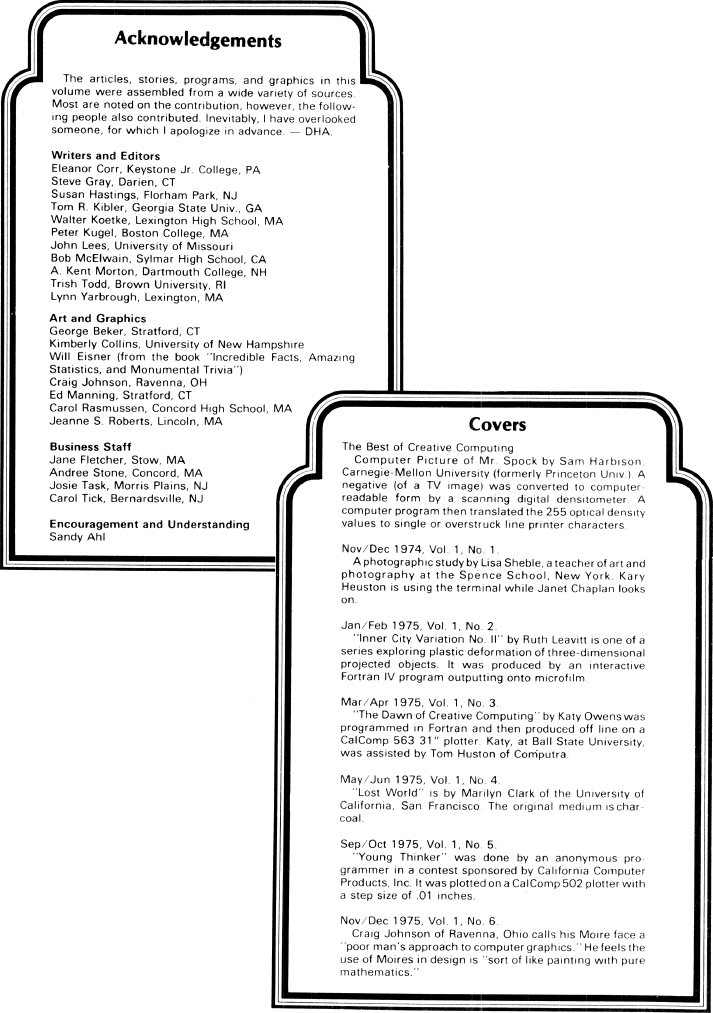 Acknowledgements

The articles, stories, programs, and graphics in this volume were assembled from
a wide variety of sources
Most are noted on contribution, however, the following people also contributed.
inevitably, I have overlooked
someone, for which l apologize in advance - DHA.

Writers and Editors
Eleanor Corr, Keystone Jr. College. PA Steve Gray, Darien, CT Susan Hastings,
Florham Park, NJ Tom R. Kibler, Georgia State Univ., GA Walter Koetke, Lexington
High School, MA Peter Kugel, Boston College, MA John Lees, University of
Missouri Bob McElwain, Sylmar High School, CA A. Kent Morton, Dartmouth College,
NH Trish Todd, Brown University, Rl Lynn Yarbrough, Lexington, MA 

Art and Graphics 
George Beker, Stratford, CT Kimberly Collins, University of New Hampshire Will
Eisner (from the book "incredible Facts, Amazing Statistics, and Monumental
Trivia") Craig Johnson, Ravenna, OH Ed Manning, Stratford, CT Carol Rasmussen,
Concord High school, MA Jeanne S. Roberts, Lincoln, MA

Business Staff
Jane Fletcher, Stow, MA Andree Stone, Concord. MA Josie Task, Morris Plains, NJ
Carol Tick, Bernardsville, NJ

Encouragement and Understanding
Sandy Ahl 

                                                 Covers 
The Best of Creative Computing 
  Computer Picture of Mr Spock by Sam Harbison Carnegie-Mellon University
(formerly Princeton Univ.). A
negative (of a TV image) was converted to computer readable form by a scanning
digital densitometer A
computer program then translated the 255 optical density values to single or
overstruck line printer characters.

Nov/Dec 1974, Vol.1. No.1.

  A photographic study by Lisa Sheble, a teacher of art and photography at the
Spence School New York Kary
Heuston is using the terminal while Janet Chaplan looks on.

Jan/Feb 1975, Vol.1.  No.2.

  "Inner City Variation No II"  by Ruth Leavitt is one of a series exploring
plastic deformation of three dimensional projected objects It was produced by an
interactive Fortran IV program outputting onto microfilm.

Mar/Apr 1975, Vol.1. No.3.

  "The Dawn of Creative Computing" by Katy Owens was programmed in Fortran and
then produced off line on a
CalComp 563 31" plotter.  Katy, at Ball State University, was assisted by Tom
Huston of Computra.

May/Jun 1975, Vol.1. No.4
"Lost World" is by Marilyn Clark of the University of California, San Francisco.
The original medium is char
coal.

Sep/Oct 1975, Vol.1. No.5.

"Young Thinker" was done by an anonymous programmer in a contest sponsored by
California Computer Products Inc It was plotted on a CalComp 502 plotter with a
step size of O1 inches.

Nov/Dec 1975, Vol.1. No.6.

  Craig Johnson of Ravenna Ohio calls his Moire face a poor man's approach to
computer graphics. "He feels the
use of Moires in design is "sort of like painting with pure mathematics,"