The Best of Creative Computing Volume 1
Edited by David Ahl, published 1976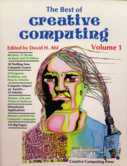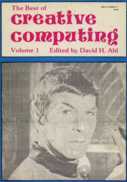 Cover - 2nd edition
Cover - 1st edition
Title page
About the Editor
Copyright information
Preface to the 2nd Edition
Acknowledgements
Covers
Volume 1 Cover Art
Table of Contents
ARTICLES AND COMMENTARY
Editorials
Birth of a Magazine
A Computer in the Classroom?
Is Breaking Into A Timesharing System a Crime?
Where Are We Going?
Computers in Education
What's Wrong With the Little Red Schoolhouse?
How to Cope With Your Computer
Recent Trends in Mathematics Curriculum Research
CITALA
Exper Sim: Experimental Simulation
Monty Python meets Monte Cristo or French Disconnection
IFIP Conference Report
Transportability
The Parable of the Horse
Technical Transport Problems
Conduit Documentation Guideline
Statewide Pools May Not Yield Expected Results
Adding up calculators
Hard Core CAI
PLATO IV System Progress Report on Field Testing
TICCIT System Progress Report on Field Testing
PLANIT: The Portable CAI System
Careers
A Computer Career for You?
Career Education. Will It Last?
1974 Data Processing Salary Survey
Key to Your Future?
Profile of an Industry
Applications
Computers and the Weather
Computer Simulation of the Atmosphere
Weather Forecasting Applications
Relativity for computers: All arithmetic
Mr. Spock's 7th Sense
Satellites and computers help manage Earth's Resources
Programming and Languages
Structured Programming
On Computer Languages
Toward a Human Computer Language
Learning about Smalltalk
Eclectic Programming Languages
"Very Good. Please Continue." A New Approach to Testing
Computer Impact on Society
The Computer Threat to Society
Digital Calculators - Then And Now
The Computer: Threat to Society?
Putting Teeth Into Privacy Legislation
Industry Leaders Testify at Government Privacy Hearings
Record-keeping in the Space Age
How One Computer Manufacturer Looks at the Data Privacy/Security Issue
Survey of Public Attitudes Toward Computers in Society
NBS Privacy Conference
How Much Privacy Should You Have?
Memoirs of an Ex-Social Security Number Giver
Crime, Cops, Computers
Prosecutor Management Information System
A Computerized Criminal Justice System
Embezzler's Guide to the Computer
Credit Card Crooks
Waiting for the Great Computer Rip-Off
Computer Abuse: The Need for a Rational Perspective
Doomsday, Says MIT Computer, May Be Just 100 Years Away
Why Supermarkets Are Going Bananas Over Computers
Community Memory: A Public Information Network
The Fascinating Computer
Turning On With Computer Art
New Communications Media
Computer Cartoons
Building a Computer of Your Own
FICTION AND POETRY
Daddy and His Computer
The Life and Times of Multivac
Time and Again, and Overtime
Poems by Peter Payack
Cat face ASCII Art
FOOLISHNESS
We're Losing Our War Against Computers
Genesis Release 2.5
The Fabulous Furry Freak Brothers
Fractionated People
Test For System Analysts
Span-O-Vision
Confess: A Humanistic Prescriptive Computer Program to Decrease Person to Person Interaction Time During Confession
The Guinness Book of Computer Records
Trots and Bonnie
Draw the Bug From the Computer and Win Prizes
PEOPLE, PLACES, AND THINGS
Nicholas Copernicus
Evelyn Roth
Nolan Bushnell- Father of PONG
PILOT 73 Information Exchange
Playing PONG to Win
CoEvolution Quarterly
Introducing Computer Recreations Corp.
Your Own Computer?
Lies, Lies, Lies
Creative Computing Compendium
Flying Buffalo
Cows and Computers
Compleat Computer Catalogue
A National Computers in Education Conference?
Public Access Questionnaire
Still a Few Bugs in the System
Students Stuff the Contest Box
Computer-Generated Super-8 Movies
NSF Awards
Hewlett-Packard's Computer Curriculum Project
Can You Solve The Energy Crisis?
Good Things From Oregon
Sexism in Computers
Computers Help Watch For Corn Blight
Input/Output
PROGRAMS, PUZZLES, PROBLEMS, AND ACTIVITIES
Problems for Creative Computing
Tac Tix and the Complications for Fallibility
Puzzles and Problems for Fun
Palindromes: For Those Who Like to End at the Beginning
Computing Factorials Accurately
Puzzles and Problems for Fun
AEDI, MUTAB, NEDA, and SOGAL
Puzzles and Problems for Fun
Reading, Writing, and Computing
Probability and Compounding
Doubling Up
Puzzles and Problems for Computers and Humans
Pythagorean Triples
Pocket Calculator Tricks
Puzzle: People and Cabins and Thinkers' Corner
Activities to Begin With
Turtle Geometry Without Hardware
The 10 Cent Computer and Other Games
Beginning with BASIC
Odd or Even? and Cryptic Puzzle
Alphabet Statistics
Programming Problems to Start With
Sports Special
So You Think You Know BASIC?
You Don't Need a Computer for These
Learning, Innovation, and Animals
Computers in the English Curriculum
Surveys, The Census, and Privacy
Interview
Life Auction
Computers in Road Building
What Do You Value?
Fairy Tales Can Come True...It Depends on You
You Are A Businessman
Technology... Doomsday For Individualism?
More Advanced Activities
Escape
The Automobile and Air Pollution
Computer-Based Experiments in Cognitive Psychology
People-picture of megalopolis
The JOURNALISM Programs: Help for the Weary Writer
Shorthand Instruction via Computer
A Universal Word Game in BASIC
Dynamic Modeling Using Fortran IV
COMPUTER GAMES
Call for Games
Hunt The Wumpus
Depth Charge
Not One
Civil War
Guess
Reverse
Schmoo
Binary
Seawar
Lunar
LOVE
Geowar
Splat
ICBM
Rabbit Chase
Magic Square
MADLIB
ASCII art of Mr. Spock
Super Star Trek
REVIEWS
Book and Game Reviews
Education and Ecstasy
Man and the Computer
Survival Printout
Equations: The Game of Creative Mathematics, Instructional Math Play, On-Words
On-Sets game
Space Hop: A Game of the Planets
BASIC in a Flash
II Cybernetic Frontiers
The Use and Misuse of Computers in Education
Computers in the Classroom
Learning for Tomorrow: The Role of the Future in Education
Electric Media
Computers and Young Children
Computer Poems
Background Math for a Computer World
Computers
The Electronic Brain: How it Works
Six Books on Computer Literacy
Computers: Tools for Today
Computers and Society
Getting Started in Classroom Computing
Computers and You
Computer-Assisted Instruction Project Final Report
Snobol: An Introduction To Programming
Business Data Processing I
How To Survive in Your Native Land
The Digital Villain: Notes on the Numerology, Parapsychology, and Metaphysics of the Computer
Databanks In A Free Society: Computers, Record-Keeping and Privacy
The Terminal Man
The Electronic Criminals
Freedom's Edge: The Computer Threat To Society
Zen and the Art of Motorcycle Maintenance
The Eco-Spasm Report
Computers in Society: The Wheres, Whys, and Hows of Computer Use
Principles of Systems
World Dynamics
Reviews of 34 Books on BASIC
Back Cover
Back Cover - 2nd edition
Back Cover - 1st edition
Want more Creative Computing? Check out the Classic Computer Magazine Archive.
You may be able to buy a pre-owned, printed copy of the book from amazon.com.
Dave Ahl himself is selling rare Creative Computing books here.
This site maintained by Kay Savetz.The Best of Creative Computing Volume 1 is copyright &copy 1976 by Creative Computing, and is posted on www.atariarchives.org with permission. Do not redistribute, mirror, or copy this online book.