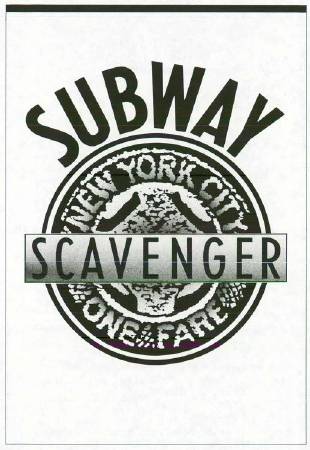 THE GAME
In Subway Scavenger, you are a messenger hired to pick up and deliver packages all over New York City. Starting at 9:00 A.M., your log will show five deliveries and five pickups. You start from your office in the Port Authority Bus Terminal at 8th Avenue and 42nd Street and work until quitting time. During the course of your day, you face typical New York subway hazards—stuck doors, track fires, and unsavory characters—but the clock is your biggest enemy. The following rules govern your progress through your delivery schedule:
When you arrive at a station on foot, you are told which trains stop at that station. You buy a token for $1 and board whichever train you wish.
At each station, you can either get off or stay on. If you get off, you can then take another train (if the station is an interchange point) or make a delivery or pickup (if the station is within walking distance of your destination). Remember that express trains don't stop at all stations. The following clues should help non-New Yorkers:

» Brooklyn Academy of Music is abbreviated BAM.
» Rockaway Boulevard in Woodhaven (Queens) is on the A Train line.
» Harlem is serviced by the A, B, and D Lines.
» The World Trade Center is an easy walk from Chambers Street.
» The New York Stock Exchange is an easy walk from Wall Street.
» Grand Street and Canal Street run through Chinatown.

The game is easier if you make a map as you go along.
By the time you complete a few games of Subway Scavenger, you will feel like a native New Yorker—and probably be qualified for a high-paying job as a subway courier. Write if you get work!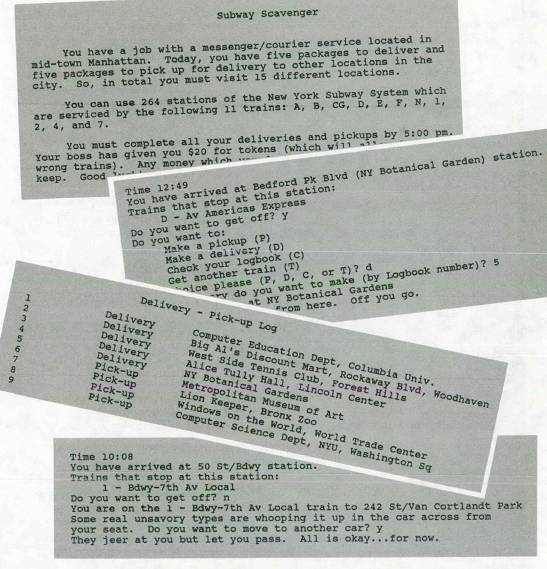 THE STORY
The first underground subway system in the world went into service in London, England in 1863. Other early subway systems include those of Glasgow (1886), Budapest (1896), Boston (the first in the United States, 1898), Paris (1900), Berlin (1902), New York (1904), Madrid (1919), Tokyo (1927), Moscow (1935) and Chicago (1943). Toronto's subway, completed in 1954, was the first in Canada.
Some subways consist of only a single line, but most, such as the Métropolitain in Paris, the New York Subway System, and the London Underground, are networks. By far the largest underground transportation system in the world is that of New York City, which includes 230 route miles of track and 465 stations. But development of the system did not occur quickly or easily.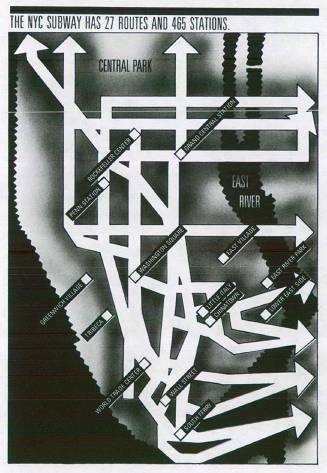 As immigrants poured into New York in the early 1800s, the City grew so fast that street congestion soon became a major problem for pedestrians and drivers of horse-drawn wagons, omnibuses, and carriages. As a result, several mass-transit systems were proposed for New York City, with a subway suggested as early as 1864. However, it was an elevated railway that got the approval of both backers and politicians, and the first one, a cable-operated affair along Ninth Avenue, went into operation on February 14, 1870.
The cable frequently broke, disrupting service, so, on October 27, 1871, the line installed a steam locomotive to pull the cars. At the same time, a passing track was built in the center of the line, enabling trains to run in two directions. Running time over the entire route from Dey Street (near the Battery at the southern tip of Manhattan) to 29th Street was 28 minutes. The success of this line—more than 5000 fares daily—convinced a legion of skeptics that the "el" was the panacea for all of Manhattan's street-level traffic problems, and for the next 20 years the els spread like cucumber vines all over the City.
The disadvantages of the elevated railways were that they were noisy, smelly, dirty, and a detriment to the neighborhoods over which they rolled. An inventor, Frank J. Sprague, had a solution: electricity. Sprague had built an experimental electric car and won the attention of Jay Gould, the great New York railroad financier. Sprague persuaded Gould to take a ride in his experimental car. Anxious to show it off, Sprague enthusiastically yanked the controller to set the train in motion. But he pulled the controller too abruptly, and a fuse blew. The noise, which sounded like a bomb exploding, completely unnerved Gould, who instantly abandoned all interest in electric traction. Sprague was forced to look elsewhere for backing.
"Elsewhere" turned out to be Chicago, Illinois, Richmond, Indiana and St.Joseph, Missouri. Sprague's electrified, multiple-unit trains worked so well in these cities that in 1898 Brooklyn's steam-operated els began converting to electricity, and by 1903 all of New York's els were re-equipped with Sprague locomotives. More important, electric locomotives opened the possibility of building underground railways in Manhattan, an idea that had previously been dismissed because of the danger of smoke and steam in long underground runs.
Ground was broken in March 1900 for the first underground line in New York, a five-mile run from City Hall downtown up the East Side to Grand Central Terminal at 42nd Street. Rather than using the London and Glasgow method of boring an underground tunnel, New York's planners used the open-trench approach that had been employed successfully in Budapest. Using this approach, a huge, deep trench was cut; a roof was made of steel girders; and fill and paving were added above the roof. While this method was infinitely cheaper, easier, and faster than boring a tunnel, it was not popular with shopkeepers who wondered if the din and disruption would ever end. Eventually it did, and the first subway was put into service on October 27, 1904.
By this time, the promoters had vastly extended their plans, and the line, the Interborough Rapid Transit (IRT), extended from City Hall to 145th Street and Broadway in upper Manhattan. The length of the route was 13 1/2 miles, and the travel time was 26 minutes. Extensions and other lines were soon opened to meet increasing public demand for service. By 1912, a tunnel to Brooklyn was opened, and a few years later, one took trains under the Harlem River to the Bronx.
Meanwhile, the directors of the Brooklyn Rapid Transit (BRT) Company, a holding company that owned several els in Brooklyn, were enviously watching the success of the IRT. To grab a piece of the subway pie, they proposed to the city an ambitious plan to build a new subway from lower Manhattan up Broadway to the Queensboro Bridge, connecting it with tunnels to both Brooklyn and Staten Island. The directors of the IRT and newly-formed Hudson-Manhattan Tubes Company weren't happy about this, particularly when the City announced a splitting of the routes in what became known as "the Dual (IRT-BRT) Contracts." The BRT (later the BMT) benefited the most, getting 87.8 route miles all over Manhattan, Queens, and Brooklyn. The tunnel to Staten Island, incidentally, was never built.
The third big line to be built was the Independent Subway (IND), City-owned and operated right from the start. Although known for years as simply the Eighth Avenue Subway, that was a misnomer because the IND actually encompassed six basic routes: Washington Heights, Bronx-Grand Concourse, Coney Island, Queens-Manhattan, Sixth Avenue-Houston St., and Brooklyn-Queens crosstown. A seventh was added in 1939 to service the World's Fair at Flushing Meadow. Unlike the Victorian IRT with its mosaic-decorated stations or the BMT with its flamboyant rolling stock, the IND was a no-nonsense, modern line with bright, spacious stations, well-engineered cars, and speedy express runs.
In June 1940, New York City purchased the privately-owned Interborough Rapid Transit (IRT) and the Brooklyn Manhattan Transit (BMT) and combined them with the City-built Independent Subway System (IND) under the jurisdiction of the New York Transit Authority (TA). Today more than 6100 cars, connected in trains of from 3 to 12 units, operate day and night over 27 routes and make nearly 6400 trips on an average weekday. The lines use 12 bridges and 11 underwater tunnels and carry approximately one billion passengers per year.
In 1978, the New York City Transit Authority (TA) became a subsidiary of the Metropolitan Transportation Authority (MTA), the nation's largest transportation system. MTA vehicles carry nearly two billion riders per year, 6.3 million on an average weekday, or 57% of the population in its operating area. This exceeds the combined ridership of the systems of Chicago, Boston, and Philadelphia—the second, third, and fourth largest people movers in the country. With nearly 8000 rail cars, the MTA has a train fleet larger than all of America's other rapid-transit and commuter railroads combined.
The New York TA is charged with the operation of the subway system and surface bus fleet. The subway system alone employs nearly 28,000 workers and operates its own police department. Although accidents, track fires, delays, and crime regularly make the nightly news, the TA steadfastly maintains that the subway is actually one of the fastest and safest ways to travel around the city.
Just ask Rebecca Morris. Hailing from Youngstown, Ohio, with degrees in library science and English literature, Rebecca is not the sort of a person you would expect to find in the record books—particularly not for being the first woman to ride every inch of track from Brooklyn to the Bronx, from Queens to Manhattan, in one marathon odyssey. But, in the fall of 1973, she did—on 67 trains in 26 hours and 36 minutes.
Herman Rinke was the first person to tour the entire system for a single 5-cent fare. In 1940, just days before the three lines were unified under TA control, he rode for 25 hours. Since that day, more than 70 other people—recorded in an unofficial file at the TA Public Relations Department—have ridden the entire system. The 1961 subway map notes that a Flushing youth rode all the routes for a single token in 25 hours and 36 minutes. On April Fool's Day of 1966, the MIT Rapid Transit Club used a computer to route their attempt but failed to beat the best time to date, 24 hours and 56 minutes, set by Geoffrey Arnold in 1963. But on August 3, 1967, James Law and six high school buddies rode the entire system in 22 hours, 11 minutes, a time still cited in the Guinness Book of World Records.
People are fanatic about many facets of the subway. Bob Leon takes pictures of every transit nook and cranny. Howard and Suzanne Samuelson run an antique store devoted exclusively to transit material. Don Howard is a walking encyclopedia of transit lore, as are Hugh Dunne and Stan Fischler. Most of them look nostalgically back on earlier days—days of kerosene marker lanterns, days when people came to New York to ride the IRT, and days before graffiti.
In 1985, the TA set a goal of having 28% of the cars clean and graffiti-free. They succeeded, but just barely. Another goal for 1985 was to have working lights and loudspeakers, functioning climate control, accurate destination signs, and readable maps on 90% of the subway fleet. While these goals—particularly with respect to maps—were not quite realized, the TA made notable strides in meeting most of them. In 1985, for example, 78 of the TA's 465 subway stations were repainted.
Of the subway fleet of 6125 cars, 760 have been in service since the 1940s. Although in the past, the TA had purchased 200 to 400 new cars per year, these purchases were severely curtailed during the City's fiscal crisis in the mid-seventies. However, a contract was recently negotiated to purchase 1375 new cars from Japan, with the older cars being phased out as the new Japanese-built R-62 cars are delivered. The first 260 cars were delivered under this contract in 1984, and they will continue to be delivered at the rate of roughly 250 per year through 1988.
When the subway first opened in 1904, the fare was a nickel, which was a relatively large amount at the turn of the century. However, the fare did not change for over 50 years, and by 1956 the 5-cent fare was a real bargain. In contrast, over the next 30 years the fare was raised eight times until it reached its current level of $1.
As the fare has increased, so has the number of people who try to beat it by putting slugs in the turnstiles. Indeed, as of the end of 1985, the TA was collecting more than 13,000 slugs per day, resulting in a financial loss of almost $3 million per year. In an attempt to thwart cheaters, the TA has changed the design of the token to one with a stainless-steel center that looks like a "bull's-eye," an apt name as they are targeted at slug users. In mid-1986, all 2600 turnstiles at 749 entry locations were changed to accept only the new token.
The next time you're in New York, ride the subway. There is no better or faster way to get around—and after you master Subway Scavenger you'll really know how to do it.
BIBLIOGRAPHY
Annual Report (1984). Metropolitan Transportation Authority, 347 Madison Ave., New York, NY 10017.
Fischler, Stan. Uptown, Downtown. New York: Hawthorne Books, 1976.
New York City Subway Map (Spring 1985). New York City Transit Authority, 370 Jay St., Brooklyn, NY 11201. (Note: If you request a subway map from the TA, include a #10 business-size self-addressed, stamped envelope.)
THE PROGRAM
At first glance, the Subway Scavenger program may look quite complicated, because of both its length and the complexity of many program statements. In fact, the program is shorter than it seems and is relatively easy to understand—as well as being exceptionally versatile and powerful.
Its versatility and power stem from its general framework, which could be used to represent almost any kind of system with intersecting nodes. In this particular version, the framework is used to represent the New York City Subway System. However, it could just as easily accept data from any other subway (London, Tokyo, Moscow, San Francisco, etc.), train (Amtrak, BritRail, etc.), bus, or, for that matter, pedestrian system (Disneyland, a large building, manufacturing plant, etc.). It could even be used to model a mixed-mode system like a university with foot, auto, and bus transportation. Nor is the framework limited to transportation problems; it could also be used to simulate electronic-message traffic over a data network or a mixed system using voice, data, and manual transmission of messages.
While the Subway Scavenger program is more than 570 lines long, more than 300 of them are data statements. Thus the program itself is of modest length. Indeed, when the player instructions, prompts, and minor subroutines are stripped out, the main program is only about 80 lines long.
Before discussing the program itself, it is important to be familiar with the three main types of data. First are the data about the nodes of the system, in this case the subway stations. To each node (or station) we must assign a number (STA), and we probably want to give it a name as well (STATION$(STA)). We must also know how many lines of transportation (subway lines) intersect the node (STANU(STA)) and which ones they are (STATR(STA, n)).
Second, to each line of transportation, we must assign a number (TR) and possibly a name (TRAIN$(TR)). In addition, we must know how many nodes it intersects (TRSTOP(TR)) and which ones they are (TRSTA(TR, n)). For convenience, we may also want to know the starting and ending point, so we can differentiate point-to-point routes from circular or continuous ones. In fact, the New York Subway System has only point-to-point routes, unlike the London Underground which has a mixture of circular and point-to-point routes.
Third, once the system is described, we must know what is to be transmitted (in this case, packages carried by a human being). To each package, we must assign a number (PKG) and, optionally, a name (PKGDES$(PKG)). We must also know where it is coming from and where it is going in terms of the nodes of the system (PKGSTA(PKG, n)). We don't really care which subway line it is carried on as long as it reaches its destination. In some cases, the building to which a package is to be delivered can be reached from more than one subway station. Naturally, it is usually preferable to use the closest station, because you spend less time walking. However, in some cases it is more efficient to walk a few extra blocks if you can reach a destination without having to ride out of your way to a station at which you can transfer to a closer line.
The main program consists of six major sections. The first one, "Arrive at station," (Lines 340–510) prints the name of the station at which you have arrived and the names of the trains that stop there. You can arrive on foot or by train. If you arrive on a train and that station is the end of the line, you must get off.
Otherwise, you can choose to get off or stay on the train.
If you get off the train, you must decide what to do next: make a pick-up, make a delivery, check your logbook, or catch another train. If you decide to catch another train, the program branches to the "Trains coming" section (Lines 530–670). Line 550 picks a random train to arive at the station:

550 RN = INT(1 + STANU(STA) * RND(1))

Recall that STANU(STA) is the number of trains that stop at a particular station; thus, RN will be an integer between 1 and STANU(STA). In Line 560, RN is used as the argument of STATR(STA, RN) to recover the actual number of the train:

560 TR = STATR(STA, RN)

The next two lines check to see if the current station (STA) is at one end of the line or the other for train TR. If so, that station is eliminated as a possible destination for train TR. Otherwise, train TR could have as its destination either end of the line (selected in Line 590). If you decide to board a particular train, the routine in Lines 640–660 performs the important function of determining just where that train is along its route. This may sound unnecessary; after all, the program knows you are at station STA. However, station STA may be the fourth stop for train 1 and the twelfth stop for train 2, and so on; it is this index value that is determined by Lines 640–660:

640 FOR I = 1 TO TRSTOP(TR)
650 IF TRSTA(TR, I)< >STA THEN NEXT I
660 TRSTX = I

First, Line 640 iterates through all the possible stops for train TR. In the data, these are station numbers. Line 650 compares each station number (TRSTA(TR,I)) with the current station STA and, if a match is not found, goes on to the next one. When a match is found, Line 660 assigns the index value I to the train station identification index, TRSTX.
Next, the "Train travel" routine (Lines 690–730) adds or subtracts one from TRSTX depending upon which way you are traveling, and determines what the next station will be. This routine also calls the "Trip hazards" subroutine (Lines 1210–1500) which deals with sticky doors, muggers, track fires, and so on. After determining the next station, the program simply branches back to the "Arrive at station" section.
If you decide to make a pickup or delivery at a given station, the routine at Lines 750–880 determines whether or not that is a valid option (Has it been made already? Is your destination close enough to the station?) The subsequent routines simply update your logbook and check to see if all the pickups and deliveries have been made. If more deliveries remain, a list of nearby subway stations is displayed, and you must walk to one of them.
Throughout the program, two "costs" are assigned. First is the cost of tokens ($1 each), which is added each time you arrive at a station on foot to take a train (subroutine at Lines 1100–1190). If you run out of money, the game ends.
The second "cost" is time. Activities and events that take time are travel (two to three minutes between stations, Line 720), waiting (one minute per train, Line 610), walking and delivery (two minutes per block, six minutes per delivery, Line 910), delays due to malfunctioning doors (Line 1250) and track fires (Line 1480), and lunch (Line 5210). If the total time exceeds eight hours (or nine hours in the easier version), your day has ended at 5:00 P.M. (or 6:00 P.M.), no more deliveries can be made, and the game ends.
The subroutine in Lines 5560–5650 shuffles the list of packages. Shuffling is discussed in detail in the description of the Orient Express program. However, you should note that in addition to shuffling a list of integers (PN(n)), this program shuffles four other variables that are associated with the list (package names, destinations, etc.). Thus, we see that shuffling can be a general function that is not limited to a list of integers.
Note the music routine in Lines 5670 to 5700. This plays the first two bars of "Give My Regards to Broadway" and is explained in the chapter on the BASIC language in the back of the book.
PROGRAM VARIABLES
A Answer to input query (most often logbook no.)
A$ Answer to input query, string
B Answer to query about station to walk to
DELTOT Total number of deliveries completed
DES Train destination (1 = north or west end of line, 2 = south or east end of line)
DORP(n) Delivery or pickup flag (n = package no.) (0 = open, 1 = delivery, 3 = pickup, 4 = done)
H$, HP, HR Hours, for printing
I Temporary iteration variable
J Temporary iteration variable
K Temporary shuffling variable
LGMAX Highest entry in logbook to date
LGPKG(n) Logbook number (n = package no.)
LUN Lunch indicator (0 = no lunch, 1 = had lunch)
MIN Minutes of elapsed time from start
MN Minutes, for printing
PERS Person indicator (0 = on foot, 1 = on train)
PKGDES$(n) Package destination name (n = package no.)
PKGSTA(n, s) Subway stations near package destination (n = package no., s = station no.)
PKSTDS(n, s) Distance from package destination to subway station (n = package no., s = station no.)
PKSTNU(n) Number of stations near package destination (n = package no.)
PN(n) Package number
PRLG Line printer indicator (0 = off, 1 = on)
PS Total packages
RN Random number
STA Station number
STANU(s) Number of trains that stop at station (s = station no.)
STATION$(s) Station name (s = station no.)
STATR(s, t) Trains that stop at station (s = station no., t = train no.)
STNS Total stations
TK Token indicator (0 = company money, 1 = own money)
TKMAX Maximum amount of money available for tokens
TM Maximum minutes to play (480 hard, 540 easier)
TM$ Maximum time to play (5:00 hard, 6:00 easier)
TOKEN Number of tokens used
TR Train number
TRDES$(t, 2) Stations at each end of a line
TRAIN$(t) Train name (t = train no.)
TRNS Total trains

TRSTA(t, p) Stations that train stops at (t = train no., p = stop no.)
TRSTOP(t) Number of stops made by train (t = train no.)
TRSTX Train station index
TRX Train heading (1 = south or east, -1 = north or west)

X$ Temporary string variable

PROGRAM LISTINGS
Download SUBWAY.BAS (tokenized BASIC format)

100 CLS : KEY OFF
110 LOCATE 10, 1 : X$ = "Subway Scavenger" : GOSUB 5530
120 LOCATE 13, 1 : X$ = "(c) by David H. Ahl, 1986" : GOSUB 5530
130 LOCATE 23, 1 : GOSUB 5500 : GOSUB 1650
140 LOCATE 21, 1 : X$ = "(Initializing data — please be patient)" : GOSUB 5530
150 DIM PN(20), PKGDES$(20), PKSTNU(20), PKGSTA(20, 5), PKSTDS(20, 5), LGPKG(20)
160 DIM DORP(20), STATION$(300), STANU(300), STATR(300, 6)
170 DIM TRAIN$(12), TRSTOP(12), TRSTA(12, 50), TRDES$(12, 2), DUM(20)
180 PS = 20 : STNS = 264 : TRNS = 11 : 'For reading data: packages, stations, trains
190 GOSUB 5660 : LGMAX = 10 : TKMAX = 20 : 'Packages to start
200 GOSUB 1780 : GOSUB 2050 : GOSUB 4760 : 'Read data into variables
210 WHILE RN > 32767 : RN = RN - 65635! : WEND : RANDOMIZE RN
220 GOSUB 5560 : STA = 21 : 'Starting station
230 LOCATE 21, 1 : PRINT TAB(60) " " : GOSUB 5500 : PRINT
240 INPUT "Do you want to be able to deliver after 5:00 pm (easier)";A$
250 GOSUB 5300 : IF A$ = "Y" THEN TM = 540 : TM$ = "6:00" : GOTO 270
260 TM = 480 : TM$ = "5 : 00"
270 FOR I = 1 TO 5 : 'Information about deliveries
280 DORP(I) = 1 : NEXT I
290 FOR I = 6 TO 10 : 'Information about pick-ups
300 DORP(I) = 2 : NEXT I
310 CLS : PRINT "You may want to print or copy this screen for later reference."
320 PRINT : GOSUB 5390 : 'Print package log
330 '
340 'Arrive at station routine
350 GOSUB 5140 : 'Print time
360 PRINT "You have arrived at " STATION$(STA) "station."
370 PRINT "Trains that stop at this station:"
380 FOR I = 1 TO STANU(STA)
390 PRINT " " TRAIN$(STATR(STA, I)) : NEXT I
400 IF PERS = 0 THEN GOSUB 1100 : GOTO 530 : 'If on foot, buy token
410 IF STA< >TRSTA(TR, 1) AND STA< >TRSTA(TR, TRSTOP(TR)) THEN 430
420 PRINT "End of the line. You'll have to get off." : GOTO 450
430 INPUT "Do you want to get off";A$ : GOSUB 5300
440 IF A$ = "N" THEN 690 : 'If you want to stay on train, branch to train travel
450 PERS = 0 : PRINT "Do you want to:" : PRINT " Make a pickup (P)"
460 PRINT " Make a delivery (D)" : PRINT " Check your logbook (C)"
470 PRINT " Get another train (T)"
480 INPUT "Your choice please (P, D, C, or T)";A$
490 GOSUB 5350 : IF A$ = "P" OR A$ = "D" THEN 750 ELSE IF A$ = "T" THEN 530
500 IF A$ = "C" THEN GOSUB 5390 : GOTO 450
510 INPUT "Not a valid choice. Enter P, D, C, or T please.";A$ : GOTO 490
520 '
530 'Trains coming routine
540 GOSUB 5140 : 'Print time
550 RN = INT(1 + STANU(STA) * RND(1)) : 'Which train is coming?
560 TR = STATR(STA, RN)
570 IF STA = TRSTA(TR, 1) THEN DES = 2 : GOTO 600 : 'At one end of line?
580 IF STA = TRSTA(TR, TRSTOP(TR)) THEN DES = 1 : GOTO 600 : 'or the other?
590 DES = INT(1 + 2 * RND(1)) : 'Destination?
600 PRINT "Here comes the " TRAIN$(TR) " train to" TRDES$(TR, DES)
610 MIN = MIN + 1
620 INPUT "Do you want to get on";A$ : GOSUB 5300
630 IF A$ = "N" THEN 550 : 'If don't get on train, wait for next one
640 FOR I = 1 TO TRSTOP(TR) : 'Find out where train is
650 IF TRSTA(TR, I)< >STA THEN NEXT I : PRINT "ERROR at Line 465"
660 TRSTX = I : 'Train station identification index
670 IF DES = 1 THEN TRX = -1 ELSE TRX = 1
680 '
690 'Train travel routine
700 PERS = 1 : PRINT "You are on the " TRAIN$(TR) " train to " TRDES$(TR, DES)
710 GOSUB 1210 : 'Possible trip hazards
720 TRSTX = TRSTX + TRX : STA = TRSTA(TR, TRSTX) : MIN = MIN + INT(2 + 1.3 * RND(1))
730 GOTO 340 : 'Go to next station routine
740 '
750 'Pickup and delivery routine
760 IF A$ = "P" THEN X$ = "pickup" ELSE X$ = "delivery"
770 PRINT "Which " X$; : INPUT " do you want to make (by Logbook number)";A
780 IF DORP(A)< >0 THEN 820
790 INPUT "That number seems to be in error. Want to check your logbook";A$
800 GOSUB 5300 : IF A$ = "Y" THEN GOSUB 5390
810 GOTO 450
820 PRINT "That " X$ " is at " PKGDES$(A)
830 FOR I = 1 TO PKSTNU(A)
840 IF PKGSTA(A, I) = STA THEN 870
850 NEXT I : PRINT "which is too far to walk from this station."
860 PRINT "Perhaps you should try something else." : GOTO 450
870 IF PKSTDS(A, I) > 1 THEN X$ = "s" ELSE X$ = ""
880 PRINT "which is" PKSTDS(A, I) "block" X$ " from here. Off you go."
890 '
900 'Successful pickup or delivery
910 MIN = MIN + 2 * PKSTDS(A, I) + 6 : 'Add to time (2 min per block, 6 at destination)
920 DELTOT = DELTOT + 1 : IF DORP(A) = 2 THEN 950 : 'Is this a pick-up?
930 PRINT : PRINT "You find someone to sign for the package."
940 DORP(A) = 0 : GOTO 990 : 'Mark delivery completed
950 LGMAX = LGMAX + 1 : PRINT "You pick up a package and log it in as no." LGMAX
960 PRINT "The address on it is " PKGDES$(LGMAX)
970 DORP(A) = 0 : DORP(LGMAX) = 1 : GOTO 1020
980 '
990 'Check if all pickups and deliveries made
1000 IF DELTOT = 15 THEN 1580 : 'Have all deliveries been made?
1010 IF PKSTNU(A) = 1 THEN X$ = "" ELSE X$ = "S"
1020 PRINT : "From here you can walk to the following subway station" X$ " : "
1030 IF PKSTNU(A) = 1 THEN PRINT " " STATION$(PKGSTA(A, 1)) : GOTO 340
1040 FOR I = 1 TO PKSTNU(A) : 'Iterate through possible stations
1050 PRINT " " I " — " STATION$(PKGSTA(A, I)) : NEXT I
1060 INPUT "Which station do you want to go to (by number)";B
1070 IF B < 1 OR B > PKSTNU(A) THEN PRINT "Not a valid response." : GOTO 1060
1080 STA = PKGSTA(A, B) : MIN = MIN + 3 + PKSTDS(A, B) : GOTO 340
1090 '
1100 'Buy token subroutine
1110 TOKEN = TOKEN + 1 : IF TOKEN <= TKMAX THEN 1190
1120 PRINT : PRINT "You have spent the entire $20 your boss gave you on tokens."
1130 IF TK = 0 THEN 1150 : 'Used own money yet?
1140 PRINT "Moreover, you have used up your own money as well." : GOTO 1520
1150 TK = 1 : INPUT "Do you want to buy tokens with your own money";A$ : GOSUB 5300
1160 IF A$"N" THEN PRINT "Okay, that's it then." : GOTO 1520
1170 RN = INT(300 + 600 * RND(1)) / 100 : PRINT "You have exactly $" RN;
1180 PRINT "so you can buy" INT(RN) "more tokens." : TKMAX = TKMAX + INT(RN)
1190 RETURN
1200 '
1210 'Trip hazards subroutine
1220 'Door refuses to close
1230 IF RND(1) > .05 THEN 1290 : '5% chance of a sticky door
1240 PRINT "One of the car doors refuses to close and the train can't move."
1250 RN = INT(1 + 2.5 * RND(1)) : MIN = MIN + RN : IF RN > 1 THEN X$ = "s" ELSE X$ = ""
1260 PRINT "You're stuck here for" RN "minute" X$ "."
1270 '
1280 'Possible mugging
1290 IF RND(1) > .35 THEN 1430 : '35 - 65% chance of mugging or fire on the tracks
1300 IF RND(1) > .05 THEN RETURN : '5% chance of tough characters
1310 PRINT "Some real unsavory types are whooping it up in the car across from"
1320 INPUT "your seat. Do you want to move to another car";A$ : GOSUB 5300
1330 IF A$ = "Y" THEN IF RND(1) > .05 THEN 1350 ELSE GOTO 1370
1340 IF RND(1) > .05 THEN 1360 ELSE GOTO 1380
1350 PRINT "They jeer at you but let you pass. All is okay...for now." : RETURN
1360 PRINT "They look at you and try to bait you, but you avoid them." : RETURN
1370 PRINT "Uh oh. Two of them get up and block your way."
1380 PRINT "Oh my, oh my. They're all moving to surround you."
1390 PRINT "They pull knives and demand your money." : GOSUB 5470
1400 PRINT "You, deciding that discretion is the better part of valor, give"
1410 PRINT "them all your money and call it quits for the day." : GOTO 1520
1420 '
1430 'Fire on the track
1440 IF RND(1) > 8.000001E - 03 THEN RETURN : '0.8% chance of fire on the tracks
1450 PRINT "Uh oh. The train is slowing down and seems to be stopping."
1460 GOSUB 5470 : PRINT "You're stuck here in the tunnel." : GOSUB 5470
1470 PRINT "A trainman finally comes through and announces, 'It's just a"
1480 RN = INT(10 + 35 * RND(1)) : MIN = MIN + RN
1490 PRINT "fire on the tracks folks. We'll be under way in a few minutes.'"
1500 PRINT "In fact, the delay is more like" RN "minutes!" : RETURN
1510 '
1520 'End of game routine
1530 IF DELTOT = 15 THEN 1580 : 'Were all deliveries made?
1540 PRINT : PRINT "You made it to" DELTOT "Locations, but"
1550 PRINT "your log still shows the following items:" : GOSUB 5390
1560 GOSUB 5250 : PRINT "Perhaps you'll be able to do better tomorrow."
1570 GOTO 1610
1580 GOSUB 5250 : PRINT : PRINT TAB(25) "CONGRATULATIONS !" : PRINT
1590 PRINT "You made all your deliveries and pick-ups successfully in the"
1600 PRINT "Largest city in the world. Very good!"
1610 PRINT "You used $" TOKEN " for tokens."
1620 PRINT : INPUT "Would you like to try again";A$ : GOSUB 5300
1630 IF A$ = "Y" THEN RUN ELSE CLS : KEY ON : PRINT "Bye for now." : END
1640 '
1650 CLS : X$ = "Subway Scavenger" : GOSUB 5530 : PRINT : PRINT
1660 PRINT " You have a job with a messenger/courier service located in"
1670 PRINT "mid-town Manhattan. Today, you have five packages to deliver and"
1680 PRINT "five packages to pick up for delivery to other locations in the"
1690 PRINT "city. So, in total you must visit 15 different locations." : PRINT
1700 PRINT " You can use 264 stations of the New York Subway System which"
1710 PRINT "are serviced by the following 11 trains: A, B, CG, D, E, F, N, 1,"
1720 PRINT "2, 4, and 7." : PRINT
1730 PRINT " You must complete all your deliveries and pickups by 5:00 pm."
1740 PRINT "Your boss has given you $20 for tokens (which will allow for a few"
1750 PRINT "wrong trains). Any money that you don't use on tokens is yours to"
1760 PRINT "keep. Good luck! (You'll need it.)" : RETURN
1770 '
1780 'Subroutine to read data about package deliveries
1790 FOR I = 1 TO PS
1800 READ PN(I), PKGDES$(I), PKSTNU(I)
1810 FOR J = 1 TO PKSTNU(I)
1820 READ PKGSTA(I, J), PKSTDS(I, J)
1830 NEXT J : NEXT I : RETURN
1840 DATA 1, "Curator, Museum of Natural History", 1, 17, 1
1850 DATA 2, "George Washington Bridge Bus Terminal", 1, 5, 1
1860 DATA 3, "West Side Tennis Club, Forest Hills", 1, 75, 4
1870 DATA 4, "Nathan's at Coney Island Amusement Park", 1, 95, 2
1880 DATA 5, "Big Al's Discount Mart, Rockaway Blvd, Woodhaven", 3, 50, 1, 49, 9, 51, 9
1890 DATA 6, "Apollo Theater, 125th St, Harlem", 2, 11, 1, 12, 9
1900 DATA 7, "Met's Dugout, Shea Stadium", 1, 260, 3
1910 DATA 8, "Press Room, Yankee Stadium", 1, 246, 3
1920 DATA 9, "Lion Keeper, Bronx Zoo", 2, 204, 5, 205, 8
1930 DATA 10, "Borough Hall, Brooklyn", 2, 32, 1, 221, 2
1940 DATA 11, "Brooklyn Academy of Music", 1, 67, 2
1950 DATA 12, "Registrar, Brooklyn College, Flatbush", 1, 234, 1
1960 DATA 13, "Computer Science Dept, NYU, Washington Sq", 1, 25, 3
1970 DATA 14, "NY Botanical Gardens", 1, 55, 4
1980 DATA 15, "Windows on the World, World Trade Center", 3, 29, 1, 28, 5, 191, 1
1990 DATA 16, "Metropolitan Museum of Art", 1, 249, 1
2000 DATA 17, "Computer Education Dept, Columbia Univ.", 2, 174, 2, 175, 8
2010 DATA 18, "Alice Tully Hall, Lincoln Center", 1, 181, 2
2020 DATA 19, "New York Stock Exchange", 2, 219, 2, 252, 2
2030 DATA 20, "Lin Chows, Mott St, Chinatown", 2, 65, 4, 146, 4
2040 '
2050 'Subroutine to read data about subway stations
2060 FOR I = 1 TO STNS : 'STNS = number of subway stations
2070 READ STA, STATION$(I), STANU(I)
2080 FOR J = 1 TO STANU(I)
2090 READ STATR(I, J) : 'Read train numbers that stop at station
2100 NEXT J : NEXT I : RETURN
2110 DATA 1, "207 St/Bdwy/Wash Hts (Manhattan)", 1, 1
2120 DATA 2, "Dyckman St/Bdwy", 1, 1
2130 DATA 3, "190 St/Ft Wash Av", 1, 1
2140 DATA 4, "181 St/Ft Wash Av", 1, 1
2150 DATA 5, "175 St/GW Bridge", 1, 1
2160 DATA 6, "168 St/Bdwy (Manhattan)", 3, 1, 3, 6
2170 DATA 7, "163 St/Amsterdam Av", 1, 3
2180 DATA 8, "155 St/St Nicholas Av", 1, 3
2190 DATA 9, "145 St/St Nicholas Av", 3, 1, 3, 4
2200 DATA 10, "135 St/St Nicholas Av", 1, 3
2210 DATA 11, "125 St/St Nicholas Av", 3, 1, 3, 4
2220 DATA 12, "116 St/8 Av", 1, 3
2230 DATA 13, "110 St/Cathedral Pkwy", 1, 3
2240 DATA 14, "103 St/Central Pk W", 1, 3
2250 DATA 15, "96 St/Central Pk W", 1, 3
2260 DATA 16, "86 St/Central Pk W", 1, 3
2270 DATA 17, "81 St/Museum Natl History", 1, 3
2280 DATA 18, "72 St/Central Pk W", 1, 3
2290 DATA 19, "59 St/Columbus Circle", 4, 1, 3, 4, 6
2300 DATA 20, "50 St/8 Av", 1, 2
2310 DATA 21, "42 St/8 Av", 2, 1, 2
2320 DATA 22, "34 St/Penn Station", 2, 1, 2
2330 DATA 23, "23 St/8 Av", 1, 2
2340 DATA 24, "14 St/8 Av", 2, 1, 2
2350 DATA 25, "W 4 St/Washington Sq", 5, 1, 2, 3, 4, 5
2360 DATA 26, "Spring St/6 Av", 1, 2
2370 DATA 27, "Canal St/6 Av", 2, 1, 2
2380 DATA 28, "Chambers St/Church St", 3, 1, 2, 7
2390 DATA 29, "World Trade Center", 1, 2
2400 DATA 30, "Bdwy/Nassau St/Fulton St (Manhattan)", 3, 1, 7, 8
2410 DATA 31, "High St/Brooklyn Br (Bklyn)", 1, 1
2420 DATA 32, "Jay St/Borough Hall", 2, 1, 5
2430 DATA 33, "Hoyt St", 2, 1, 11
2440 DATA 34, "Lafayette Av", 1, 11
2450 DATA 35, "Clinton Av", 1, 11
2460 DATA 36, "Franklin Av", 1, 11
2470 DATA 37, "Nostrand Av", 1, 1
2480 DATA 38, "Kingston Av", 1, 11
2490 DATA 39, "Utica Av", 1, 1
2500 DATA 40, "Ralph Av", 1, 11
2510 DATA 41, "Rockaway Av", 1, 11
2520 DATA 42, "Bdwy, E NY", 1, 11
2530 DATA 43, "Liberty Av", 1, 11
2540 DATA 44, "Van Sicien Av", 1, 11
2550 DATA 45, "Shepherd Av", 1, 11
2560 DATA 46, "Euclid Av", 1, 1
2570 DATA 47, "Grant Av (Brooklyn)", 1, 1
2580 DATA 48, "80 St/Liberty Av (Queens)", 1, 1
2590 DATA 49, "88 St/Liberty Av", 1, 1
2600 DATA 50, "Rockaway Blvd", 1, 1
2610 DATA 51, "104 St/Liberty Av", 1, 1
2620 DATA 52, "111 St/Liberty Av", 1, 1
2630 DATA 53, "Lefferts Blvd (Queens)", 1, 1
2640 DATA 54, "205 St/Bainbridge Av (Bronx)", 1, 4
2650 DATA 55, "Bedford Pk Blvd (NY Botanical Garden)", 1, 4
2660 DATA 56, "Kingsbridge Rd", 1, 4
2670 DATA 57, "Fordham Rd", 1, 4
2680 DATA 58, "Tremont Av", 1, 4
2690 DATA 59, "47-50 St/Rockefeller Center", 3, 3, 4, 5
2700 DATA 60, "42 St/Av Americas", 4, 3, 4, 5, 9
2710 DATA 61, "34 St/Herald Sq", 4, 3, 4, 5, 10
2720 DATA 62, "23 St/Av Americas", 1, 5
2730 DATA 63, "14 St/Av Americas", 3, 5, 6, 7
2740 DATA 64, "Bdwy/Lafayette St", 4, 3, 4, 5, 8
2750 DATA 65, "Grand St (Manhattan)", 2, 3, 4
2760 DATA 66, "DeKalb Av/Flatbush Av (Bklyn)", 2, 4, 10
2770 DATA 67, "Atlantic Av/Pacific St/BAM", 5, 3, 4, 7, 8, 10
2780 DATA 68, "179 St/Hillside Av (Queens)", 2, 2, 5
2790 DATA 69, "169 St", 1, 2
2800 DATA 70, "Parsons Blvd", 2, 2, 5
2810 DATA 71, "Sutphin Av", 1, 2
2820 DATA 72, "Van Wyck Blvd", 1, 2
2830 DATA 73, "Union Tpk", 2, 2, 5
2840 DATA 74, "75 Av", 1, 2
2850 DATA 75, "71 Av/Continental Av/Forest Hills", 4, 2, 5, 10, 11
2860 DATA 76, "Roosevelt Av", 5, 2, 5, 9, 10, 11
2870 DATA 77, "Queens Plaza", 4, 2, 5, 10, 11
2880 DATA 78, "23 St/Ely Av (Queens)", 2, 2, 5
2890 DATA 79, "Lexington Av (Manhattan)", 2, 2, 5
2900 DATA 80, "5th Av/53 St", 2, 2, 5
2910 DATA 81, "7th Av/53 St", 3, 2, 3, 4
2920 DATA 82, "36 St/4 Av", 2, 3, 10
2930 DATA 83, "9 Av/39 St", 1, 3
2940 DATA 84, "Ft Hamilton Pky", 1, 3
2950 DATA 85, "50 St/New Utrecht Av", 1, 3
2960 DATA 86, "55 St/New Utrecht Av", 1, 3
2970 DATA 87, "62 St/New Utrecht Av", 2, 3, 10
2980 DATA 88, "71 St/New Utrecht Av", 1, 3
2990 DATA 89, "79 St/New Utrecht Av", 1, 3
3000 DATA 90, "18 Av/New Utrecht Av", 1, 3
3010 DATA 91, "20 Av/86 St", 1, 3
3020 DATA 92, "Bay Pky/86 St", 1, 3
3030 DATA 93, "25 Av/86 St", 1, 3
3040 DATA 94, "Bay 50 St", 1, 3
3050 DATA 95, "Coney Island/Surf Av (Bklyn)", 4, 3, 4, 5, 10
3060 DATA 96, "67 Av/Queens Blvd", 2, 10, 11
3070 DATA 97, "63 Dr/Queens Blvd", 2, 10, 11
3080 DATA 98, "Woodhaven Blvd", 2, 10, 11
3090 DATA 99, "Grand Av/Queens Blvd", 2, 10, 11
3100 DATA 100, "Elmhurst Av", 2, 10, 11
3110 DATA 101, "65 St/Bdwy", 2, 10, 11
3120 DATA 102, "Northern Blvd", 2, 10, 11
3130 DATA 103, "46 St/Bdwy", 2, 10, 11
3140 DATA 104, "Steinway St", 2, 10, 11
3150 DATA 105, "2 Av/Houston St", 1, 5
3160 DATA 106, "Delancey St", 1, 5
3170 DATA 107, "East Bdwy (Manhattan)", 1, 5
3180 DATA 108, "York St/Jay St (Brooklyn)", 1, 5
3190 DATA 109, "Bergen St", 2, 5, 11
3200 DATA 110, "Carroll St", 2, 5, 11
3210 DATA 111, "Smith St", 2, 5, 11
3220 DATA 112, "4 Av/9 St", 2, 5, 10
3230 DATA 113, "7 Av/9 St", 1, 5
3240 DATA 114, "15 St/Prospect Park", 1, 5
3250 DATA 115, "Ft Hamilton Pwy", 1, 5
3260 DATA 116, "Church Av", 1, 5
3270 DATA 117, "Ditmas Av", 1, 5
3280 DATA 118, "18 Av/McDonald Av", 1, 5
3290 DATA 119, "Kings Hwy", 1, 5
3300 DATA 120, "Avenue U", 1, 5
3310 DATA 121, "Avenue X", 1, 5
3320 DATA 122, "Neptune Av", 1, 5
3330 DATA 123, "W 8th/NY Aquarium", 1, 5
3340 DATA 124, "7 Av/Flatbush Av", 1, 4
3350 DATA 125, "Prospect Park", 1, 4
3360 DATA 126, "Church Av/E 18 St", 1, 4
3370 DATA 127, "Newkirk Av", 1, 4
3380 DATA 128, "Kings Hwy/E 16 St", 1, 4
3390 DATA 129, "Sheepshead Bay", 1, 4
3400 DATA 130, "Brighton Beach", 1, 4
3410 DATA 131, "Court Square", 1, 11
3420 DATA 132, "21 St/Jackson Av (Queens)", 1, 11
3430 DATA 133, "Greenpoint Av (Bklyn)", 1, 11
3440 DATA 134, "Nassau Av", 1, 11
3450 DATA 135, "Metropolitan Av", 1, 11
3460 DATA 136, "Broadway/Union Av", 1, 11
3470 DATA 137, "Flushing-Marcy Avs", 1, 11
3480 DATA 138, "Myrtle-Willoughby Avs", 1, 11
3490 DATA 139, "Bedford-Nostrand Avs", 1, 11
3500 DATA 140, "36 St/Northern Blvd", 2, 10, 11
3510 DATA 141, "Lexington Av/59-60 Sts (Manhattan)", 2, 8, 10
3520 DATA 142, "5th Av/59-60 Sts", 1, 10
3530 DATA 143, "57 St/7 Av", 1, 10
3540 DATA 144, "Times Sq/42 St/Bdwy", 4, 6, 7, 9, 10
3550 DATA 145, "Union Sq/14 St", 2, 8, 10
3560 DATA 146, "Canal St/Bdwy (Manhattan)", 1, 10
3570 DATA 147, "Union St/4 Av", 1, 10
3580 DATA 148, "Prospect Av", 1, 10
3590 DATA 149, "25 St/4 Av", 1, 10
3600 DATA 150, "45 St/4 Av", 1, 10
3610 DATA 151, "53 St/4 Av", 1, 10
3620 DATA 152, "59 St/4 Av", 1, 10
3630 DATA 153, "8 Av/62 St", 1, 10
3640 DATA 154, "Ft Hamilton Pwy", 1, 10
3650 DATA 155, "18 Av/64 St", 1, 10
3660 DATA 156, "20 Av/64 St", 1, 10
3670 DATA 157, "Bay Pwy/Av O", 1, 10
3680 DATA 158, "Kings Hwy/W 7 St", 1, 10
3690 DATA 159, "Avenue U/W 7 St", 1, 10
3700 DATA 160, "86 St/W 7 St", 1, 10
3710 DATA 161, "242 St/Van Cortlandt Park", 1, 6
3720 DATA 162, "238 St/Bdwy", 1, 6
3730 DATA 163, "231 St/Bdwy (Bronx)", 1, 6
3740 DATA 164, "225 St/Bdwy (Manhattan)", 1, 6
3750 DATA 165, "215 St/10 Av", 1, 6
3760 DATA 166, "207 St/10 Av", 1, 6
3770 DATA 167, "Dyckman Av", 1, 6
3780 DATA 168, "191 St/St Nicholas Av", 1, 6
3790 DATA 169, "181 St/St Nicholas Av", 1, 6
3800 DATA 170, "157 St/Bdwy", 1, 6
3810 DATA 171, "145 St/Bdwy", 1, 6
3820 DATA 172, "137 St/Bdwy", 1, 6
3830 DATA 173, "125 St/Bdwy", 1, 6
3840 DATA 174, "116 St/Bdwy/Columbia Univ", 1, 6
3850 DATA 175, "110 St/Cathedral Pkwy", 1, 6
3860 DATA 176, "103 St/Bdwy", 1, 6
3870 DATA 177, "96 St/Bdwy", 2, 6, 7
3880 DATA 178, "86 St/Bdwy", 1, 6
3890 DATA 179, "79 St/Bdwy", 1, 6
3900 DATA 180, "72 St/Bdwy", 2, 6, 7
3910 DATA 181, "66 St/Bdwy/Lincoln Center", 1, 6
3920 DATA 182, "50 St/Bdwy", 1, 6
3930 DATA 183, "Penn Station/34 St/7 Av", 2, 6, 7
3940 DATA 184, "28 St/7 Av", 1, 6
3950 DATA 185, "23 St/7 Av", 1, 6
3960 DATA 186, "18 St/7 Av", 1, 6
3970 DATA 187, "Christopher St", 1, 6
3980 DATA 188, "Houston St", 1, 6
3990 DATA 189, "Canal & Varick Sts", 1, 6
4000 DATA 190, "Franklin St", 1, 6
4010 DATA 191, "Chambers St/W Bdwy", 2, 6, 7
4020 DATA 192, "Cortlandt St/World Trade Center", 1, 6
4030 DATA 193, "Rector St/Greenwich St", 1, 6
4040 DATA 194, "South Ferry/Battery Park", 1, 6
4050 DATA 195, "241 St/White Plains Rd (Bronx)", 1, 7
4060 DATA 196, "238 St/White Plains Rd", 1, 7
4070 DATA 197, "233 St/White Plains Rd", 1, 7
4080 DATA 198, "225 St/White Plains Rd", 1, 7
4090 DATA 199, "219 St/White Plains Rd", 1, 7
4100 DATA 200, "Gun Hill Rd/White Plains Rd", 1, 7
4110 DATA 201, "Burke Av/White Plains Rd", 1, 7
4120 DATA 202, "Allerton Av/White Plains Rd", 1, 7
4130 DATA 203, "Pelham Pkwy/White Plains Rd", 1, 7
4140 DATA 204, "Bronx Pk E/White Plains Rd", 1, 7
4150 DATA 205, "E 180 St/Bronx Zoo", 1, 7
4160 DATA 206, "E Tremont Av/Boston Rd", 1, 7
4170 DATA 207, "174 St/Southern Blvd", 1, 7
4180 DATA 208, "Freeman St", 1, 7
4190 DATA 209, "Simpson St", 1, 7
4200 DATA 210, "Intervale Av", 1, 7
4210 DATA 211, "Prospect Av", 1, 7
4220 DATA 212, "Jackson Av", 1, 7
4230 DATA 213, "3 Av/149 St", 1, 7
4240 DATA 214, "149 St/Grand Concourse (Bronx)", 2, 7, 8
4250 DATA 215, "135 St/Lenox Av (Manhattan)", 1, 7
4260 DATA 216, "125 St/Lenox Av", 1, 7
4270 DATA 217, "116 St/Lenox Av", 1, 7
4280 DATA 218, "110 St/Lenox Av", 1, 7
4290 DATA 219, "Wall St (Manhattan)", 1, 7
4300 DATA 220, "Clark St (Brooklyn)", 1, 7
4310 DATA 221, "Borough Hall/Court St (Bklyn)", 2, 7, 8
4320 DATA 222, "Hoyt St/Fulton St", 1, 7
4330 DATA 223, "Nevins St", 2, 7, 8
4340 DATA 224, "Bergen St", 1, 7
4350 DATA 225, "Grand Army Plaza, Prospect Park", 1, 7
4360 DATA 226, "Eastern Pkwy/Brooklyn Museum", 1, 7
4370 DATA 227, "Franklin Av/Eastern Pkwy", 1, 7
4380 DATA 228, "President St", 1, 7
4390 DATA 229, "Sterling St/Nostrand Av", 1, 7
4400 DATA 230, "Winthrop St/Nostrand Av", 1, 7
4410 DATA 231, "Church Av/Nostrand Av", 1, 7
4420 DATA 232, "Beverley Rd/Nostrand Av", 1, 7
4430 DATA 233, "Newkirk Av/Nostrand Av", 1, 7
4440 DATA 234, "Flatbush Av/Bklyn College", 1, 7
4450 DATA 235, "Woodlawn/Jerome Av (Bronx)", 1, 8
4460 DATA 236, "Mosholu Pkwy", 1, 8
4470 DATA 237, "Bedford Park Blvd", 1, 8
4480 DATA 238, "Kingsbridge Rd", 1, 8
4490 DATA 239, "Fordham Rd/Jerome Av", 1, 8
4500 DATA 240, "183 St/Jerome Av", 1, 8
4510 DATA 241, "Burnside Av/Jerome Av", 1, 8
4520 DATA 242, "176 St/Jerome Av", 1, 8
4530 DATA 243, "Mt Eden Av/Jerome Av", 1, 8
4540 DATA 244, "170 St/Jerome Av", 1, 8
4550 DATA 245, "167 St/River Av", 1, 8
4560 DATA 246, "161 St/Yankee Stadium (Bronx)", 2, 4, 8
4570 DATA 247, "", 1, 11
4580 DATA 248, "125 St/Lexington Av (Manhattan)", 1, 8
4590 DATA 249, "86 St/Lexington Av/Metropolitan Museum", 1, 8
4600 DATA 250, "42 St/Grand Central Sta", 2, 8, 9
4610 DATA 251, "Bklyn Bridge/Worth St", 1, 8
4620 DATA 252, "Wall St/Bdwy", 1, 8
4630 DATA 253, "Bowling Green (Manhattan)", 1, 8
4640 DATA 254, "Nostrand Av/Eastern Pkwy", 1, 8
4650 DATA 255, "Rockaway Av/Livonia Av", 1, 8
4660 DATA 256, "New Lots Av (Brooklyn)", 1, 8
4670 DATA 257, "Queensboro Plaza (Queens)", 1, 9
4680 DATA 258, "61 St/Roosevelt Av", 1, 9
4690 DATA 259, "Junction Blvd", 1, 9
4700 DATA 260, "Willets Point/Shea Stadium", 1, 9
4710 DATA 261, "Main St/Flushing (Queens)", 1, 9
4720 DATA 262, "Classon Av", 1, 11
4730 DATA 263, "Clinton-Washington Avs", 1, 11
4740 DATA 264, "Fulton St/Lafayette Av", 1, 11
4750 '
4760 'Subroutine to read data about subway trains
4770 FOR I = 1 TO TRNS : 'TRNS = number of subway trains
4780 READ TR, TRAIN$(I), TRSTOP(I)
4790 FOR J = 1 TO TRSTOP(I)
4800 READ TRSTA(I, J) : 'Read station numbers for a train
4810 NEXT J
4820 TRDES$(TR, 1) = STATION$(TRSTA(TR, 1)) : 'Station name at north or west end
4830 TRDES$(TR, 2) = STATION$(TRSTA(TR, TRSTOP(TR))) : 'Station at south or east end
4840 NEXT I : RETURN
4850 DATA 1, "A - 8 Av Express", 29, 1, 2, 3, 4, 5, 6, 9, 11, 19, 21, 22, 24, 25, 27, 28
4860 DATA 30, 31, 32, 33, 37, 39, 46, 47, 48, 49, 50, 51, 52, 53
4870 DATA 2, "E - 8 Av Local", 24, 68, 69, 70, 71, 72, 73, 74, 75, 76, 77, 78, 79, 80, 81, 20, 21
4880 DATA 22, 23, 24, 25, 26, 27, 28, 29
4890 DATA 3, "B - Av Americas Express", 36, 6, 7, 8, 9, 10, 11, 12, 13, 14, 15, 16, 17, 18
4900 DATA 19, 81, 59, 60, 61, 25, 64, 65, 67, 82, 83, 84, 85, 86, 87, 88, 89, 90, 91, 92, 93, 94, 95
4910 DATA 4, "D - Av Americas Express", 26, 54, 55, 56, 57, 58, 246, 9, 11, 19, 81, 59, 60
4920 DATA 61, 25, 64, 65, 66, 67, 124, 125, 126, 127, 128, 129, 130, 95
4930 DATA 5, "F - Av Americas Local", 37, 68, 70, 73, 75, 76, 77, 78, 79, 80
4940 DATA 59, 60, 61, 62, 63, 25, 64, 105, 106, 107, 108, 32, 109, 110
4950 DATA 111, 112, 113, 114, 115, 116, 117, 118, 119, 120, 121, 122, 123, 95
4960 DATA 6, "1 - Bdwy-7th Av Local", 38, 161, 162, 163, 164, 165, 166, 167, 168, 169, 6
4970 DATA 170, 171, 172, 173, 174, 175, 176, 177, 178, 179, 180, 181, 19, 182, 144, 183, 184
4980 DATA 185, 186, 63, 187, 188, 189, 190, 191, 192, 193, 194
4990 DATA 7, "2 - 7th Av Express", 49, 195, 196, 197, 198, 199, 200, 201, 202, 203, 204
5000 DATA 205, 206, 207, 208, 209, 210, 211, 212, 213, 214, 215, 216, 217, 218, 177, 180, 144
5010 DATA 183, 63, 191, 28, 30, 219, 220, 221, 222, 223, 67, 224, 225, 226, 227, 228, 229, 230
5020 DATA 231, 232, 233, 234
5030 DATA 8, "4 - Lexington Av Express", 29, 235, 236, 237, 238, 239, 240, 241, 242, 243
5040 DATA 244, 245, 246, 214, 248, 249, 141, 250, 145, 64, 251, 30, 252, 253, 221, 223, 67, 254
5050 DATA 255, 256
5060 DATA 9, "7 - Flushing Express", 9, 144, 60, 250, 257, 258, 76, 259, 260, 261
5070 DATA 10, "N - Broadway Express", 40, 75, 96, 97, 98, 99, 100, 76, 101, 102, 103, 104
5080 DATA 140, 77, 141, 142, 143, 144, 61, 145, 146, 66, 67, 147, 112, 148, 149, 82, 150, 151
5090 DATA 152, 153, 154, 87, 155, 156, 157, 158, 159, 160, 95
5100 DATA 11, "CG - Bklyn/Queens Crosstown", 29, 75, 96, 97, 98, 99, 100, 76, 101, 102,
5110 DATA 103, 104, 140, 77, 131, 132, 133, 134, 135, 136, 137, 138, 139, 262, 263, 264, 33,
5120 DATA 109, 110, 111
5130 '
5140 'Subroutine to check for lunch and end of workday
5150 IF MIN > TM THEN 5220 : 'After 5 pm?
5160 GOSUB 5250
5170 IF LUN = 1 THEN RETURN : 'Had lunch already?
5180 IF MIN < 180 THEN RETURN : 'Before 12 noon?
5190 IF PERS = 1 THEN RETURN : 'On a train?
5200 PRINT : PRINT "Time for a lunch break. Chili dog and cola. Burp!"
5210 PRINT : MIN = MIN + INT(24 + 20 * RND(1)) : LUN = 1 : RETURN
5220 PRINT : PRINT "So sorry, it is after " TM$ "pm and the places to which"
5230 PRINT "you want to go will be closed." : GOTO 1520
5240 '
5250 'Subroutine to print the time
5260 HR = INT(MIN / 60) : MN = MIN - 60 * HR : IF HR < 4 THEN HP = 9 + HR ELSE HP = HR - 3
5270 HP = 100 * HP + MN + 10000 : H$ = STR$(HP)
5280 PRINT : PRINT "Time " MID$(H$, 3, 2) ":" RIGHT$(H$, 2) : RETURN
5290 '
5300 'Subroutine to read yes/no answer
5310 IF A$ = "" THEN A$ = "Y" : RETURN
5320 GOSUB 5350 : IF A$ = "Y" OR A$ = "N" THEN RETURN
5330 INPUT "Don't understand your answer. Enter 'Y' or 'N' please";A$ : GOTO 5320
5340 '
5350 'Subroutine to read first letter of answer
5360 A$ = LEFT$(A$, 1) : IF A$ >= "A" AND A$ <= "Z" THEN RETURN
5370 A$ = CHR$(ASC(A$) - 32) : RETURN
5380 '
5390 'Subroutine to print delivery/pick-up log
5400 PRINT : PRINT TAB(20) "Delivery - Pick-up Log" : PRINT
5410 FOR I = 1 TO 15
5420 IF DORP(I) = 0 OR DORP(I) = 3 THEN 5450
5430 IF DORP(I) = 1 THEN X$ = "Delivery" ELSE X$ = "Pick-up"
5440 PRINT I, X$, PKGDES$(I)
5450 NEXT I : PRINT : GOSUB 5500 : RETURN
5460 '
5470 'Subroutine to make a short pause
5480 FOR I = 1 TO 1200 : NEXT I : RETURN
5490 '
5500 X$ = "Press any key to continue." : GOSUB 5530
5510 WHILE LEN(INKEY$) = 0 : RN = RN + 1 : WEND : PRINT : RETURN
5520 '
5530 'Subroutine to print centered lines
5540 PRINT TAB((70 - LEN(X$)) / 2) X$; : RETURN
5550 '
5560 'Subroutine to shuffle the list of packages
5570 FOR I = 1 TO PS : DUM(I) = I : NEXT I
5580 FOR I = 1 TO PS - 1
5590 K = I + INT((PS + 1 - I) * RND(I)) : J = PN(I) : PN(I) = PN(K) : PN(K) = J
5600 X$ = PKGDES$(I) : PKGDES$(I) = PKGDES$(K) : PKGDES$(K) = X$
5610 A = PKSTNU(I) : PKSTNU(I) = PKSTNU(K) : PKSTNU(K) = A
5620 FOR J = 1 TO 3
5630 A = PKGSTA(I, J) : PKGSTA(I, J) = PKGSTA(K, J) : PKGSTA(K, J) = A
5640 A = PKSTDS(I, J) : PKSTDS(I, J) = PKSTDS(K, J) : PKSTDS(K, J) = A
5650 NEXT J : NEXT I : RETURN
5660 '
5670 'Subroutine to play a short melody
5680 SOUND 262, 4 : SOUND 294, 6 : SOUND 330, 4 : SOUND 349, 6
5690 SOUND 392, 6 : SOUND 349, 10 : SOUND 330, 12 : FOR K = 1 TO 1200 : NEXT
5700 SOUND 330, 4 : FOR K = 1 TO 4 : SOUND 294, 4 : NEXT
5710 SOUND 330, 6 : SOUND 330, 6 : SOUND 262, 12 : RETURN

---
Return to Table of Contents
|
Previous Section
|
Next Section